Sequoia Capital Invests in Sencha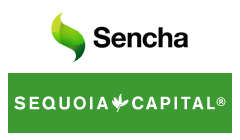 Three years ago, we embarked on a mission to make the browser a first class platform for application development. We began our quest powered by the passion to make a difference, funded by second mortgages and personal lines of credits, and a dream to build a great company. With ExtJS and ExtGWT, I think we succeeded in overturning people's preconceptions of what could be done in the browser and with the help of our amazing community of over a million developers, we made a big impact on web application development.
The New Mobile Web
Until recently, mobile was a side-show for applications and content providers. First generation mobile web solutions ran on WAP browsers on under-powered phones. Screens were too small for users to do anything except the most rudimentary data browsing.  User interactions via a number-pad or cursor were simply painful. But with the latest generations of mobile devices, this has changed radically. This generation of iOS and Android devices have high resolution screens, responsive touch interfaces, powerful processors, (even GPUs!) and most importantly, first class browsers with HTML5 and fast Javascript. For the first time, mobile platforms are poised to rival the desktop as the dominant means of application consumption.
The mobile web will bring a host of new challenges and new opportunities. Every organization who has a website now needs to think about how to optimally serve its  content and its applications to  this new generation of powerful mobile devices. This is not a trivial task. But we think Sencha can be a key provider of tools and technologies that help organizations accomplish this goal.
Our Next Chapter
Last week, we combined forces with jQTouch and Raphaël to tackle this new challenge of creating awesome web applications on touch based devices. We also released the first beta of Sencha Touch, our framework for building mobile applications for iOS and Android. And today, I'm thrilled to announce that Sequoia Capital and Radar Partners are investing $14M in Sencha.

We chose Sequoia to lead the investment because of their record of technology leaders like Google, YouTube and Apple, and their impressive track record in mobile computing. We are also delighted to have the participation of Radar Partners in the round. As part of that investment, Stratton Sclavos, the former long-time CEO of VeriSign, and Jim Goetz of Sequoia Capital join our board of directors. We want to be able to invest in a product development effort that matches the opportunity I've described above. And that's what we plan to use the money for. Although we might have been able to reach our goals while remaining boot-strapped, we think that this funding greatly improves our odds. It will also allow us to support our Sencha Labs projects including jQTouch and Raphaël.
Building A World Class Team
I'd also like to welcome some new people to the Sencha team. Until now, we've had a very lean business staff, but the new funding allows us to invest in great leadership. We're adding three new people to head up sales, marketing and professional services & training respectively. I'm very excited to have them on board. Our goal with the expansion is to respond to every customer request promptly and accurately, communicate and educate people about our products more broadly and to create new training and consulting relationships and capabilities.
I want to thank every one of our  community members for helping us to get to this stage. My fervent hope is that this new funding allows us to serve you with even more amazing products in the future.