In our recent webinar Best Practices for Building Enterprise Java Web Apps, we presented tips on building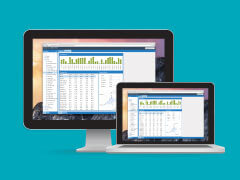 applications with GXT and GWT. In addition, we answered several questions around the future of these frameworks. For the benefit of a wider audience, I'd like to take this opportunity to recap some of those questions and answers.
You can also watch the webinar recording.
Can we have a GXT 2.3 version that works with GWT 2.7?
Yes. GXT 2.3.1a works with GWT 2.7. It will be the last GXT 2 release to do so, however. The recommended GXT version to use with GWT 2.7 is 3.1.2. GWT is moving pretty quickly and is increasingly incompatible with older versions of GXT (for example, GWT 2.8 will replace CSS with GSS). It is no longer practical for us to support the latest versions of GWT in both GXT 2 and GXT 3.
Do you see a resurgence in the usage of GWT as opposed to JavaScript frameworks like Angular, etc?
I definitely see a resurgence in GWT. Anecdotally, this year's GWT.create conference had a lot more energy than last year (and a few more attendees, as well). Last year, the GWT toolchain was less than ideal; however, with GWT 2.7, super dev mode now offers a faster development cycle time than classic dev mode. It's well integrated with Eclipse and IntelliJ now and offers brand new possibilities like the ability to debug a GWT app running on a mobile browser or WebView with Chrome remote debugging. While Angular, Sencha Ext JS, and many other JavaScript frameworks (remember JQuery? Backbone?) continue to grow in popularity, the number of worldwide GWT developers continues to grow steadily as well. To get a better sense of where GWT is headed, I highly recommend watching the GWT.create videos.
What kind of long-term support guarantees does Sencha offer for making sure the display/behavior of GXT apps across OS and browser combinations continues to work? If we release a product with a lifespan of 5 years, can we be sure it will still work 5 years from now with the latest browsers at that time?
In general, we aim to maintain support for all browsers that are supported by current versions of GWT. We are still offering patches through our support channel to resolve specific issues in GXT 2.x on modern browsers, for example. However, as I mentioned above, as GWT itself moves forward to support newer browsers and drop old ones, we will move GXT forward with it, so you may need to migrate to a newer version of GXT in order to support the latest browsers.
Can you tell us a little bit about the future of GXT? Especially mobile support and compatibility with GWT 3.0.
We are currently working on adding touch / gesture support to GXT to help our customers take their existing apps from desktops to tablets with minimal effort. We will be showcasing the upcoming version of GXT with tablet support at SenchaCon 2015. As far as GWT 3 is concerned, we have a seat on the GWT Steering Committee and generally track changes in GWT very closely. For example, in GXT 3.1.x, we offered support for super dev mode in GWT 2.7 even before it was released. And we are already working on migrating GXT 3.1.x to use GSS for GWT 2.8. So while we don't yet know exactly what GWT 3 may bring, we plan to support it in GXT 3 and the upcoming version of GXT.
Thank you
Thanks to everyone who attended the live webinar and participated in the Q&A. It's always great to hear from you. If you asked a question that didn't get answered, remember you can always ask in our forums and we'll do our best to answer it.
SenchaCon – April 7-9, 2015
Don't forget to register for SenchaCon while advance pricing is still available. We have a few GXT talks and two GXT training sessions planned. Email any of the GXT team members that you know or email me to receive a 20% discount code for SenchaCon 2015. We look forward to seeing you there!