What you get with your Sencha ExtAngular early access trial
ExtAngular offers 115+ pre-built UI components that are designed to interact and work together seamlessly in your Angular applications. ExtAngular provides access to hosted npm packages that include following:
Grid

— enables organizations to handle millions of records and provides built-in functionality such as sorting, grouping, and summary rows.

Pivot Grid

— enables developers to add powerful analytics functionality to Angular applications – allowing users to summarize and analyze data to make more informed decisions.

Exporter

— enables users to export data from the standard grid or Pivot Gridto a wide variety of common formats including XLSX, XML, CSV, TSV, and HTML for additional analysis and information sharing.

Layouts

— ensures the proper sizing and positioning of all components with the powerful and flexible layout system.

Charts

— lets developers visually represent data with a broad range of dynamic and static charts — including line, bar, and pie charts.

D3

— enables developers to add sophisticated D3 visualizations including heatmaps, treemaps, and sunbursts to their applications.

Forms Components

— makes it easy for teams to add login, checkout, register, contact, rating forms and more to their web application.

Calendar

— lets developers add a sophisticated calendar to their web applications so users can easily view and manage schedules and events within the application.

ExtAngularGen

— lets developers generate new Angular application that uses ExtAngular Components.

Material theme

— lets developers style their Angular applications with material theme.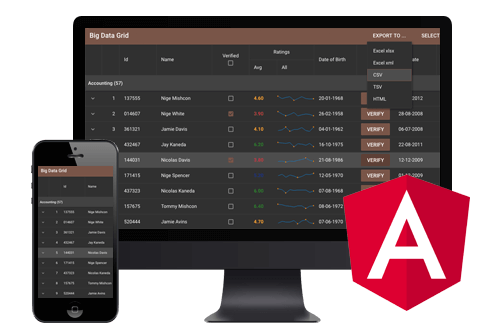 Complete the form and provide a valid email address to start your evaluation