Building robust, functional, attractive applications and components that perform well on all devices and platforms is a time consuming and costly undertaking. Developers need a comprehensive solution that includes a fully supported, pre-built component library to build applications quickly and efficiently, so that businesses can get their apps to market faster and with better usability. In many cases, commercial component libraries used in conjunction with open source frameworks offer the best of both worlds.
Read the white paper, "Choosing Web Application Libraries in an Open Source World," and learn top considerations for choosing your technology stack as it relates to developing enterprise-grade web applications today.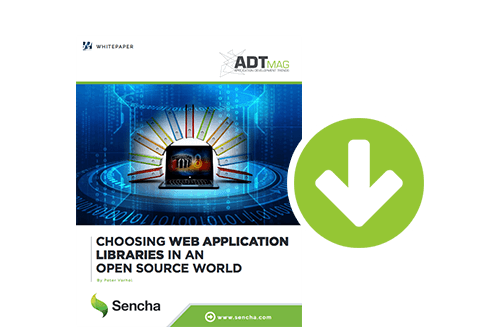 Complete the form and provide a valid email address to download whitepaper
All fields required
By registering, you confirm that you agree to the processing of your personal data by Sencha Inc as described in the
Privacy Statement.
Sencha is part of the Idera group and may share your information with its parent company Idera, Inc., and its affiliates. For further details on how your data is used, stored, and shared, please review our
Privacy Statement.