Overview
Create robust unit and end-to-end tests that help you deliver quality apps
Sencha Test is the most comprehensive unit and end-to-end testing solution for Ext JS apps, and includes support for end-to-end testing of ExtReact, React and Angular apps. Sencha Test helps you improve application quality, accelerate time to market, and reduce testing time and costs. With Sencha Test, you can create end-to-end tests quickly, and execute them on multiple browsers simultaneously. Cross-browser testing is critical to ensuring quality for organizations, and test automation is a requirement to meet delivery timelines. Sencha Test helps you build an end-to-end testing plan without having to cobble together testing tools.
Sencha Test leverages the powerful Jasmine framework, so you can write tests in JavaScript. Integration with WebDriver allows you to create end-to-end tests that mimic actual user behavior and execute them on remote browser farms. The many assertions and matchers along with spies, stubs, and mocks can be used to create robust tests that help you deliver quality apps.
Sencha Test enables developers and test automation engineers to:
Improve the quality of Ext JS, ExtReact, React and Angular apps through end-to-end testing.
Leverage unit and functional testing for Ext JS apps to increase team productivity and accelerate release cycles.
Create robust tests by leveraging the deep integration between Sencha Test and Ext JS and ExtReact.
All of the Sencha Test components work together seamlessly to provide a comprehensive and integrated test environment designed specifically to test Ext JS applications, and supports end-to-end testing of ExtReact, React and Angular applications.
Sencha Test Studio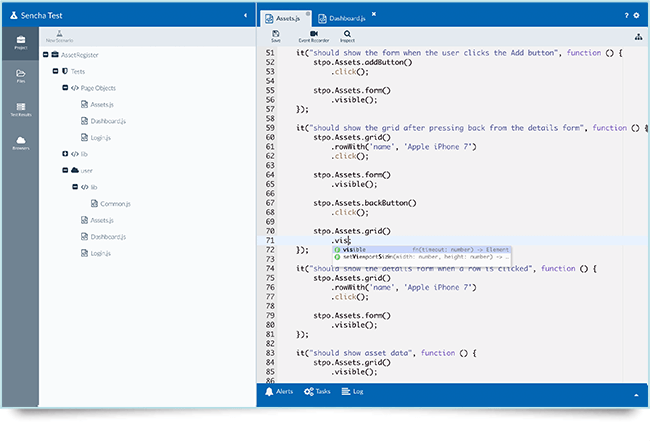 Sencha Test Studio is the graphical user interface that allows you to write Jasmine tests in a built-in Sencha Test editor. You can write tests using JavaScript and store them in your team's preferred source control system. Test Studio allows you to create tests directly in Sencha Test, or code in a separate IDE, and execute the test immediately. The iterative unit testing process helps you create more robust code by constantly testing it along the way.
Test Runner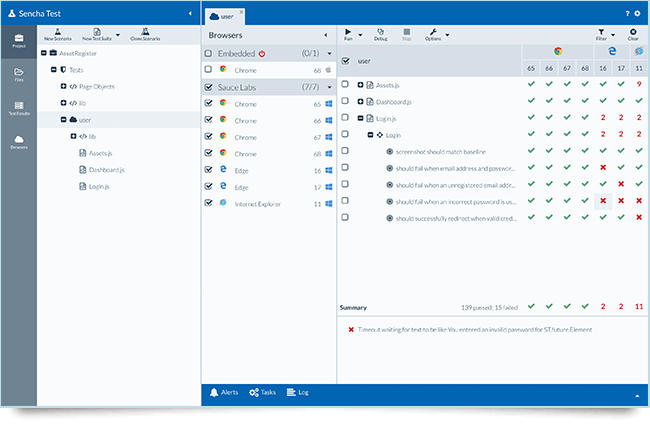 Using Test Runner, you can run selected unit and functional tests on any or all of the browsers on a local machine, a connected mobile device, or on a browser farm. The local Test Runner can be used for test creation and debugging. An external browser farm or a Selenium grid is used by the Sencha Test Command Line Interface (CLI) to run the same tests on a Continuous Integration (CI) system – allowing you to schedule automated test runs nightly or at a convenient time, with minimal configuration.
Sencha Test Command Line Interface (CLI)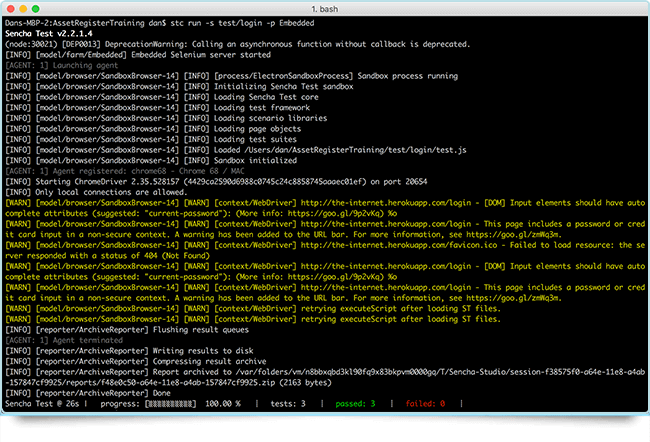 Sencha Test CLI helps you achieve the full power of automated test runs. Once tests are authored and checked into the source control repository, you can launch them from your Continuous Integration (CI) system. The CI system can invoke the CLI automatically, once it senses a change to the application code or the test files in the source control repository.
Test Archiver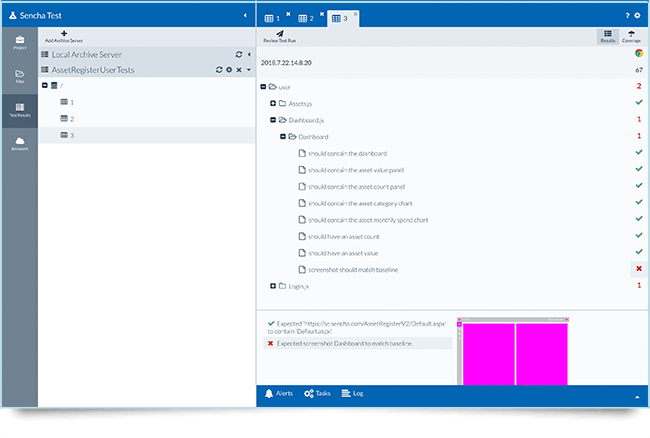 The Test Archiver enables you to track historical testing trends in your projects as well as compare results between runs. Automated visual analysis allows you to identify runs where screens do not render correctly or visual glitches are present. The archiver leverages the full power of Sencha Test Studio to make it easy to understand test results and quickly identify failures.
---
Features Summary
| | | |
| --- | --- | --- |
| Features | Description | Benefits |
| Inspector | Inspect a component or element on an Ext JS application and generate API test code or page objects | Enables users to quickly create test code by navigating through the application |
| ALM | Integration with third-party tools that enables defect management | Log bugs directly after reviewing in JIRA thereby reducing manual effort needed to enter defects in JIRA |
| External Libraries | Load external JavaScript files or node modules within test code | Expands the scope into doing additional testing, such as database, Web Services, and more, from Sencha Studio |
| Sencha Test APIs | This set of APIs allow users to create tests targeting Ext JS components and non Ext JS elements on a web application | The APIs are Ext JS aware and wait for the components to be rendered before performing a task or an action |
| Event Recorder | Generate test code based on the event performed on the application | Makes the test creation process easier and helps users create tests faster than writing manual code |
| Test Runner | Built-in test runner allows users to run tests in browser on local machines or remote machines | Helps kick off tests manually in multiple browsers simultaneously (on both local and remote machines) |
| Archive Server | A Node-based server that allows users to store test results from a CI run | Store and analyze test results from historical test runs |
| Sencha Test Command Line Utility (STC) | Once tests are ready, developers can run tests in multiple browsers on local or remote machines simultaneously from command line without opening Sencha Studio; CLI syntax can be added as a batch command on CI system that is essential for unattended test execution | Command line utility can be invoked from CI tools thereby enabling teams to achieve continuous testing and deployment |
| Browser Farm Integration | Add a Selenium farm or a browser farm from a remote browser vendor, such as Sauce Labs, directly from Sencha Studio and use it from the Test Runner | Allows users to run tests simultaneously in multiple browsers on remote machines with a one-time configuration |
| Visual Testing | Perform screen comparison tests using the Sencha Test API | Quickly create baseline images for multiple web pages using the Sencha Test API and compare them on subsequent test runs |
| Page Objects | Store all locators from a web page in a centralized location | A centralized page object helps keep the test code clean and makes maintenance very easy |
Resources
Getting Started
Quick Start Guide
Download Cmd
Quick Start Guide – Cmd
Sencha Test FAQ
Sign up for Training

Customer Quotes
Customers using the early access version of Sencha Test were able to deploy the product in less than five minutes.
One third of the early access customers expect Sencha Test to make their application development cycles 75 percent more efficient.
Support Subscribers
Latest version: Sencha Test 2.2

Supported Browsers
Safari 6+
Firefox
IE8+
Microsoft Edge
Chrome
Opera 15+
Safari / iOS 6+
Chrome / Stock Browser on Android 4+
IE 10+ / Win 8+

Other Resources