Building React components on your own is time consuming, has integration and maintenance risks, and gets in the way of actually building the app. Now you can easily get all of the components you need to build data-intensive web apps with ExtReact.
To learn more, read the FAQ and try ExtReact in a browser with Sencha Fiddle.
Why ExtReact
| | | |
| --- | --- | --- |
| Add any component from our library including grid, tree grid, pivot grid, charts, D3 visualizations and more – no customization required. | Get an optimized and minimized package that contains only the components you're using in your app. | Backed by a team of experts, you have resources you can count on when your app is on the line. |
115+ Ready-to-Use UI Components
ExtReact provides all the components a developer needs to build data-intensive web apps using React. You get components that work together, interact with each other seamlessly, and are professionally built, tested and maintained. So you can focus on building your app, not the components.
Grid

Manage millions of records without impacting performance through buffered rendering. Enables sorting, grouping, column locking, summary rows and more

Layouts

Ensure the proper sizing and positioning of all components with the powerful and flexible layout system – no separate stylesheet required

Pivot Grid

Summarize, aggregate and analyze multidimensional data to make more informed decisions

Exporter

Export data to popular formats including: XLSX, XML, CSV, TSV, and HTML formats

Charts

Visually represent data with a broad range of dynamic and static charts – including line, bar, and pie charts. Browser variations are handled automatically, so the charts always display correctly

D3

Add powerful visualizations such as heatmaps, sunbursts and more into your apps. D3 adapter lets you work with any example in the D3 library

Forms

Add login, checkout, register, contact, rating forms and more to your app

Calendar

Easily view and manage schedules and events within your apps

Advanced Tabs and Menus

Add simple or complex buttons, tabs, and panels to your React apps with ease
Deliver a Great User Experience
Adaptive and Responsive Design
Build immersive user engagement by using layouts and adaptive design features.
Keyboard Navigation and Focus Management
Give power to your users with built-in keyboard navigation support, which improves web app accessibility.
Powerful Data Management
Efficiently handle any size and source of remote data with ease – across device types with buffered rendering.
Custom-built for React Developers
ExtReact's extensive collection of pre-built components make it easy to compose beautiful UIs quickly.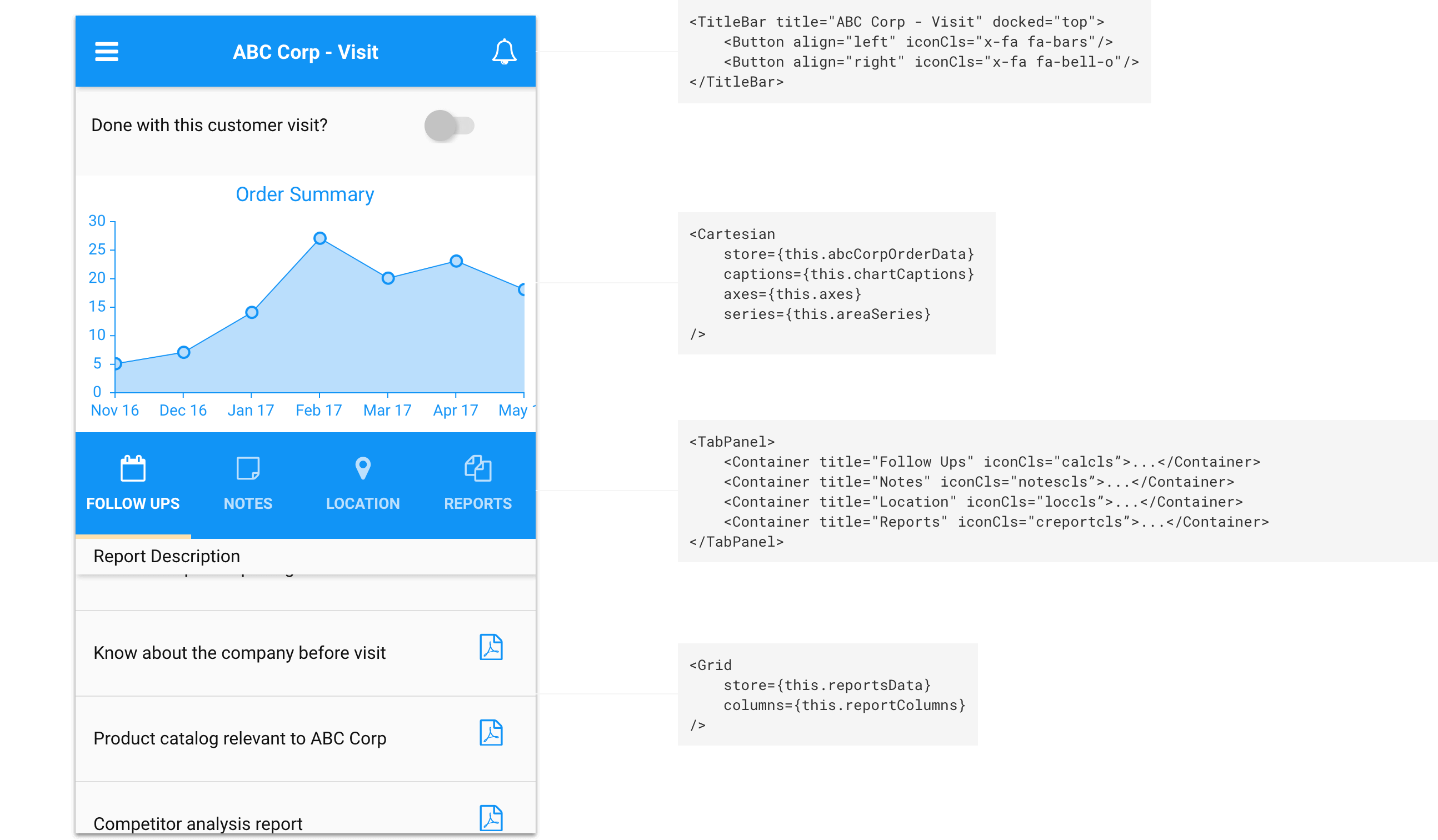 Theming Made Easy
Whether you're a designer or developer, ExtReact makes it easy to deliver great looking apps—fast.
Built-in Themes
Leverage Material design and other themes to save time and effort. Modify or extend themes with ease via Sencha Themer or our Theming API. Learn more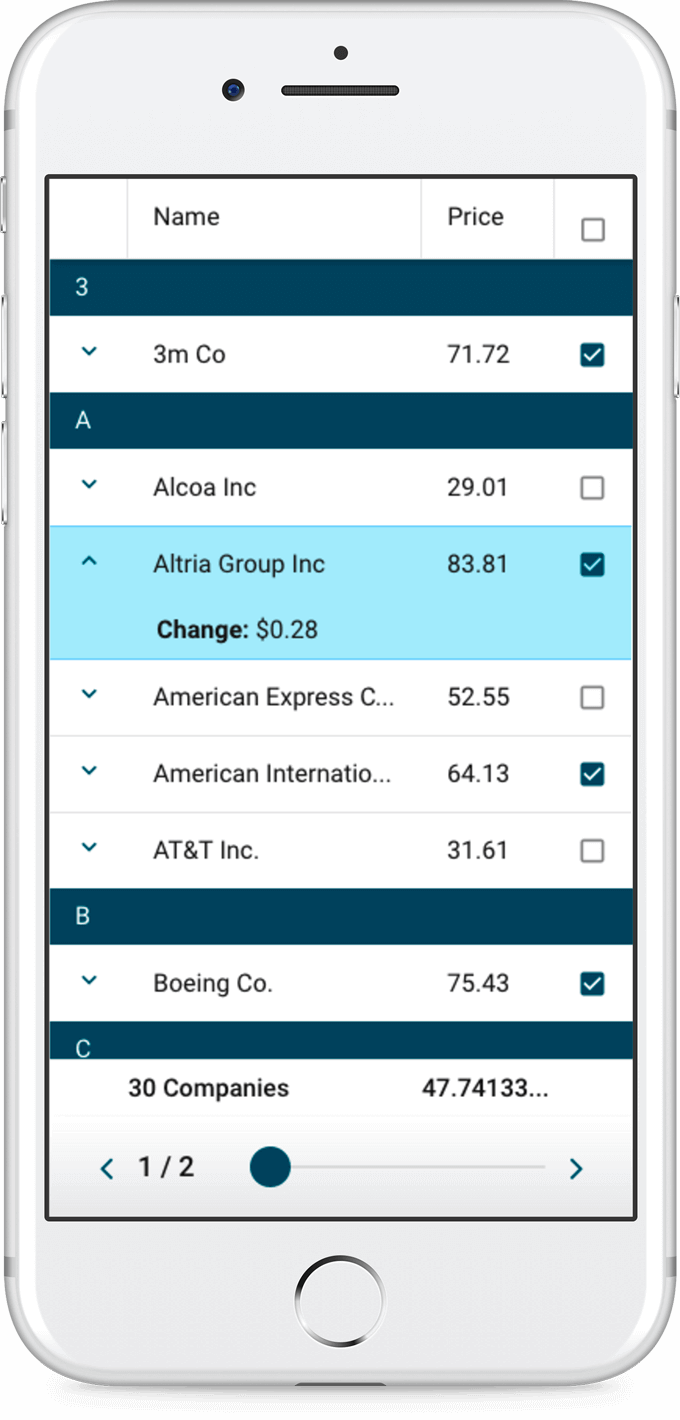 Sencha Themer
Visually design your theme without writing a single line of code. Change fonts, colors, padding to make components fit the motif of the rest of your app. Learn more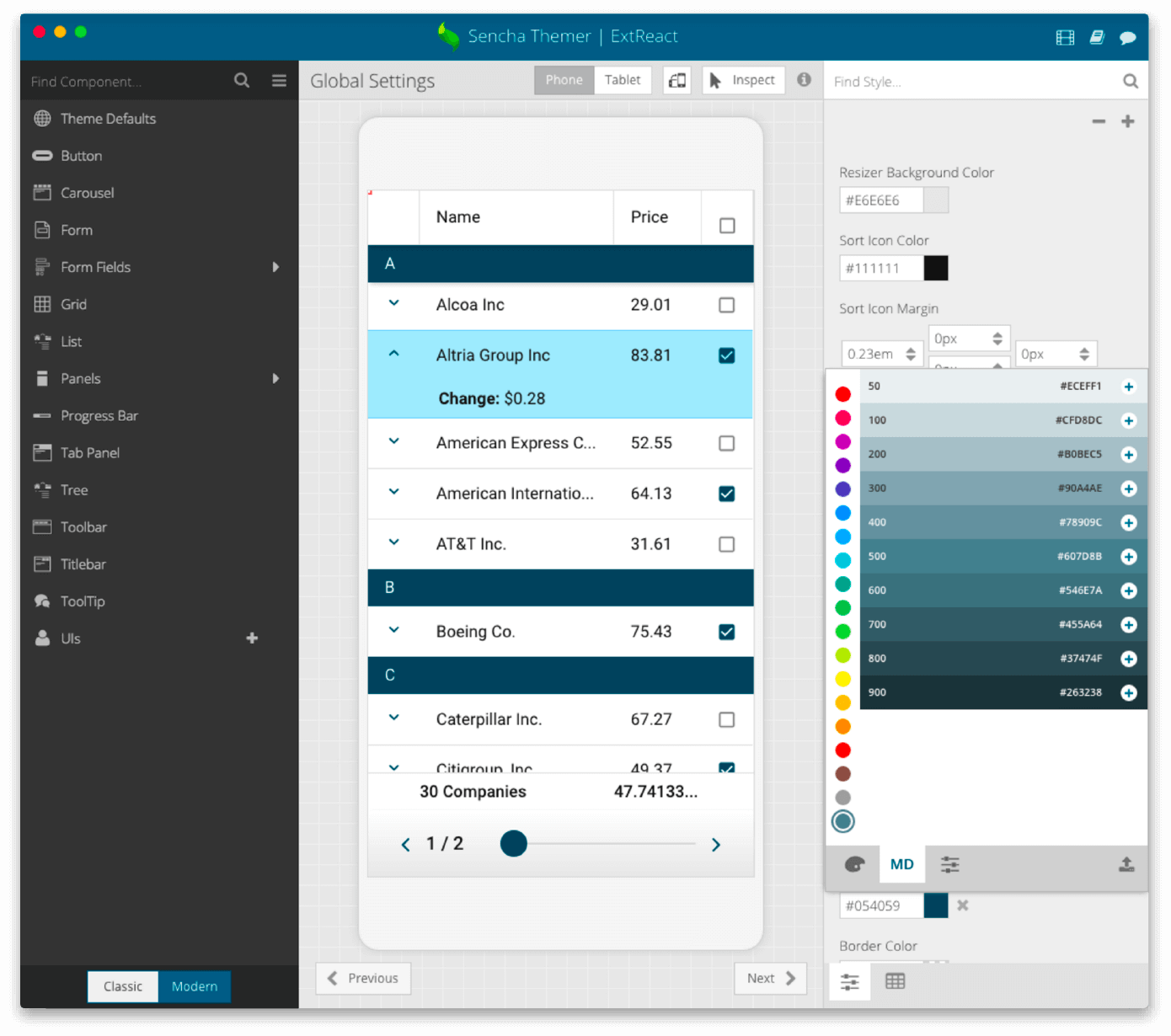 The information and feedback Sencha provided during the evaluation cycle was fantastic. In less than a day, we agreed to the purchase based on the maturity and depth of the components.

Blaine Bradbury, Sr. Developer
Pricing and Packaging
To learn more, read the FAQ.
| | | |
| --- | --- | --- |
| | Standard | Premium |
| | | |
| Buttons, Panels, Tabs | ✓ | ✓ |
| Toolbars, Tooltips, Windows | ✓ | ✓ |
| Audio, Video, and More | ✓ | ✓ |
| Forms | ✓ | ✓ |
| Trees | ✓ | ✓ |
| Calendar | ✓ | ✓ |
| Grid | ✓ | ✓ |
| Exporter | | ✓ |
| Tree Grid | | ✓ |
| Pivot Grid | | ✓ |
| Sencha Charts | | ✓ |
| D3 Visualization | | ✓ |
| | | |
| Cmd | ✓ | ✓ |
| Themer | | ✓ |
| Support | ✓ | ✓ |
| Annual Subscription Price Per Developer | $695 | $1,195 |