Overview
ExtReact provides 115+ pre-built UI components that you can easily integrate
with React apps.
ExtReact is the most complete set of professionally tested and commercially supported React components for developers to use in creating visually stunning, data-intensive applications on desktop and mobile devices. It also includes plugins for Webpack and Babel to optimize builds, and theming tools to give designers and developers complete control over their application's look and feel. Watch this video for a brief introduction.
ExtReact enables developers to quickly add sophisticated, commercially tested and supported components to their React applications. With ExtReact, developers can:
Add any component from our library, including grid, tree grid, pivot grid, charts, D3 visualizations and more – no customization required.
Get an optimized and minimized package that contains only the components you're using in your app.
Access Support – ExtReact is backed by a team of experts so that you have resources you can count on when your app is on the line.
Why ExtReact
React is a popular JavaScript framework that offers a component-based approach to building web apps. React, however, does not include any pre-built components. Many apps require trees, menus, grids, charts, forms, and other components to deliver the functionality their users need. React developers are faced with the choice of either building these components from scratch or getting them from the community.
Building robust, beautiful components that perform well on all devices and platforms is a time-consuming and costly undertaking. Supporting and maintaining those components over the life of your app as browsers and language standards evolve adds even more work.
Fortunately, the React community is quite large, so there are many pre-built components available. Using components from the open source community, however, introduces some risks and challenges. Release timelines, maintainer commitment, and overall quality vary greatly from project to project. Furthermore, as React itself is updated, some libraries may become incompatible while others may require the latest version of React. Juggling 10 or 15 different component libraries can be a nightmare. The best way to mitigate this problem is to get as many of the components from as few libraries as possible.
ExtReact gives you the most complete set of components for your React apps in a single, commercially supported, and professionally maintained package. Let's take a look at what's inside.
115+ High-Performance Configurable UI Components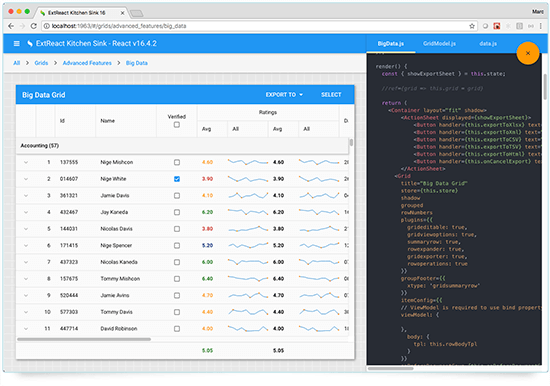 ExtReact offers more than 115 pre-built UI components that are fully supported and designed to interact and work together seamlessly over the lifetime of the application. Watch this video to see how to easily add components to your React app.
Grid enables organizations to handle millions of records and provides built-in functionality such as sorting, grouping, and summary rows. Read the Grid tutorial to learn how to add the Grid component to your React app.
Pivot Grid enables developers to add powerful analytics functionality to React applications – allowing users to summarize and analyze data to make more informed decisions.
Exporter enables users to export data from the standard grid or Pivot Grid to a wide variety of common formats including XLSX, XML, CSV, TSV, and HTML for additional analysis and information sharing.
Layouts ensures the proper sizing and positioning of all components with the powerful and flexible layout system.
Charts lets developers visually represent data with a broad range of dynamic and static charts — including line, bar, and pie charts. Browser variations are handled automatically, so the charts always display beautifully.
D3 enables developers to add sophisticated D3 visualizations including heatmaps, treemaps, and sunbursts to their applications. The D3 adapter enables developers to work with any example in the D3 library.
Forms and Form Validation: makes it easy for teams to add login, checkout, register, contact, rating forms and more to their web application. Form validation helps ensure the integrity of the data.
Calendar lets developers add a sophisticated calendar to their web applications so users can easily view and manage schedules and events within the application.
Back-end Agnostic Data Package and Powerful Data Management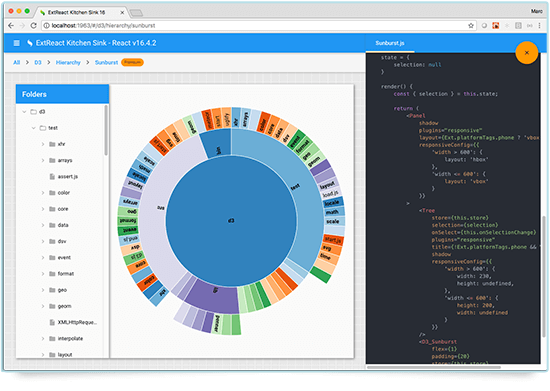 A robust data package decouples the UI components from the data layer. The data package is protocol agnostic, and can access data from any back-end source. Buffered rendering efficiently handles massive data sets with ease.
Layout Manager and Responsive Configurations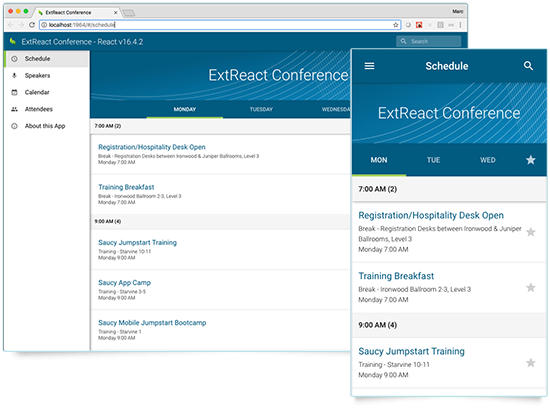 A flexible layout manager helps to organize the display of data and content across multiple browsers, devices, and screen sizes. It helps developers to control the display of components, even for the most complex user interfaces.
Adaptive and Responsive Design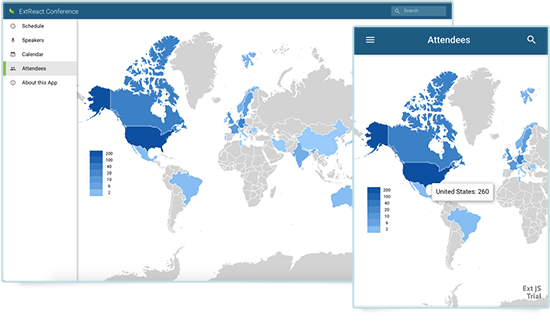 Enables teams to build immersive user engagement by using layouts and adaptive design features.
Theming Made Easy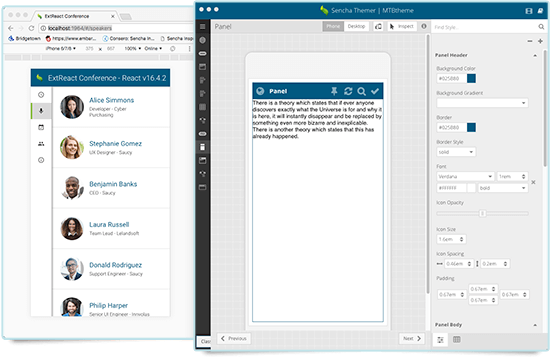 Developers can use the built-in Material design inspired theme, eliminating the need to construct custom styles and making it easy to create a fresh, modern user experience with minimal effort. Themes can also be easily modified or extended within Sencha Themer, enabling both developers and designers to create compelling themes without writing a single line of code.
Fonts, colors, and padding can all be modified with ease to make components fit the motif of the application.
Keyboard Navigation and Focus Management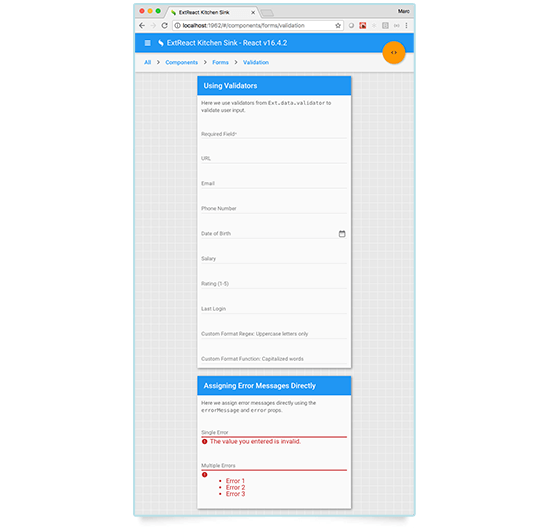 Enable users to easily navigate the application and improve web application accessibility.
---
Sencha Tools
Sencha Themer
Sencha Themer enables developers to uniquely theme components and give their React application a distinct look.
Sencha Test
Sencha Test eis the most comprehensive unit and end-to-end testing solution for Ext JS, and includes support for end-to-end testing of ExtReact, React and Angular apps. Sencha Test helps you improve application quality, accelerate time to market, and reduce testing time and costs.
ExtReact Generator
ExtReact Generator helps kickstart new ExtReact projects, offering best practices and tools to make developers more productive.
ExtReact Webpack Plugin
ExtReact Webpack Plugin works with Sencha Cmd and ExtReact Babel plugin to make it easy for developers to bundle and optimize the ExtReact components used in their applications.
Sencha Fiddle
Sencha Fiddle is a free tool that allows you to try ExtReact code in your browser without downloading or installing anything. You can easily share your ExtReact code by saving and sharing fiddle URLs. Try Fiddle in a browser now.
ExtReact TypeScript Definitions
ExtReact TypeScript definitions provide code completion functionality in several code editors including Visual Studio Code.
Private NPM Registry
The Sencha private NPM registry offers immediate access to ExtReact packages and early pre-releases.
Resources
Getting Started
Quick Start Guide
Examples
Docs
Sample App
Fiddle – Try it in a browser
Quick Start Guide – Themer

Customer Quotes
The information and feedback Sencha provided during the evaluation cycle was fantastic. In less than a day, we agreed to the purchase based on the maturity and depth of the components.

— Blaine Bradbury, Sr. Developer
Support Subscribers
Latest version: ExtReact 6.6
Supported Browsers
IE 11+
Chrome
Chrome/Stock Browser on Android 4.3+
Firefox
Microsoft Edge on Win 10
Safari 9+
Safari on iOS9+
Opera
Other Resources