Introduction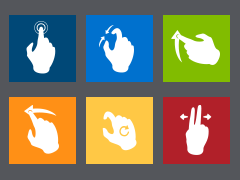 Prior to version 5, Ext JS was designed exclusively for use on desktop devices with traditional mouse input. As of version 5, we've added support for touch input as well, which allows Ext JS to be used on a larger selection of devices, primarily tablets, but also laptops with touch-screens. The implications of this change will likely be transparent to users of the framework, but it's helpful to understand what's going on behind the scenes. In this article, we'll explore how the framework handles touch events and event normalization between devices.
Gestures In Ext JS
Perhaps the most exciting addition to the event system in Ext JS 5 is "gesture" events. Because the Sencha Touch event system forms the basis for the new Ext JS 5 event system, Sencha Touch users may find that they are already familiar with many of these gestures. For the uninitiated, gestures are complex events that are synthesized from lower-level browser events, for example, "drag", "swipe", "longpress", "pinch", "rotate", and "tap". Ext JS 5 takes touch gestures one step further and allows them to be triggered by mouse input in addition to touch input, or both, in the case of multi-input devices.
From the browser's perspective, there are 3 basic events (start, move and end) that fire when interacting with a page using a mouse or touch-screen. The framework monitors the sequence and timing of these three events to determine when a gesture has occurred:
| Browser | Start | Move | End |
| --- | --- | --- | --- |
| Desktop Browsers | mousedown | mousemove | mouseup |
| Mobile Webkit | touchstart | touchmove | touchend |
| IE10 | MSPointerDown | MSPointerMove | MSPointerUp |
| IE11 | pointerdown | pointermove | pointerup |
When the framework determines that a gesture has occurred, it dispatches a gesture event to any Elements that are listening. Listening for a gesture event is the same as listening for any DOM event, for example:
myElement.on('drag', myFunction);
The following "single-touch" gestures will work across all supported devices and browsers, regardless of the input device that is used (mouse or touch):
| Gesture | Events |
| --- | --- |
| Tap | tap, tapcancel |
| DoubleTap | singletap, doubletap |
| LongPress | longpress |
| Drag | dragstart, drag, dragend, dragcancel |
| Swipe | swipe, swipestart, swipecancel |
| EdgeSwipe | edgeswipestart, edgeswipe, edgeswipecancel |
The following "multi-touch" gestures will work on all supported touch-enabled browsers when running on a device that has a touch-screen.
| Gesture | Events |
| --- | --- |
| Pinch | pinchstart, pinch, pinchend, pinchcancel |
| Rotate | rotatestart, rotate, rotateend, rotatecancel |
The Delegated Event Model
The Ext JS 5 event system makes a subtle but significant paradigm shift by moving away from directly attached DOM listeners to a "delegated" event model. This means that for each type of event ("mousedown", "touchstart", etc.), a single listener is attached at the very top of the DOM hierarchy (the window object). When a DOM element fires an event, it bubbles all the way to the top before it is handled. Internally, this complicates things just a bit, because the event system has to emulate event propagation by traversing up the DOM hierarchy from the target element, and dispatching event handlers, if needed, along the way. While, at first glance, this approach may seem needlessly complex, it bestows a few important advantages:
The delegated event model is the key to being able to recognize when a "gesture" has occurred. The event system continuously monitors the timing and sequence of certain key events to detect if one of the supported gestures has occurred. It then seamlessly dispatches the gesture event in proper sequence along with the native events from which it was synthesized.
It greatly reduces the number of DOM listeners that are attached, thus improving memory usage, and providing a single point for removal of DOM listeners. This has the added benefit of reducing the likelihood of memory leaks in older browsers, because it simplifies cleanup at window unload time.
It allows "top-down" (capture) propagation of events in older browsers. Because IE8 does not support addEventListener() and the "useCapture" option, DOM events that are directly attached can only ever propagate using the bottom-up bubbling model. The delegated event model provides a way around this problem, by using its own artificial propagation routine, which implements both "bubble" and "capture" propagation. Users can attach capture listeners by simply passing the "capture" option when attaching the event, and event handlers will be dispatched in a top-down order across all browsers and devices. For example:
myElement.

on

(

{


    click

:

 someFunction

,


    capture

:

 

true




}

)

;
Potential Challenges With The Delegated Model
As with any fundamental change to the framework, it's possible there will be incompatibility with existing code. As it relates to the new event system, existing code generally falls into one of two camps:
Applica