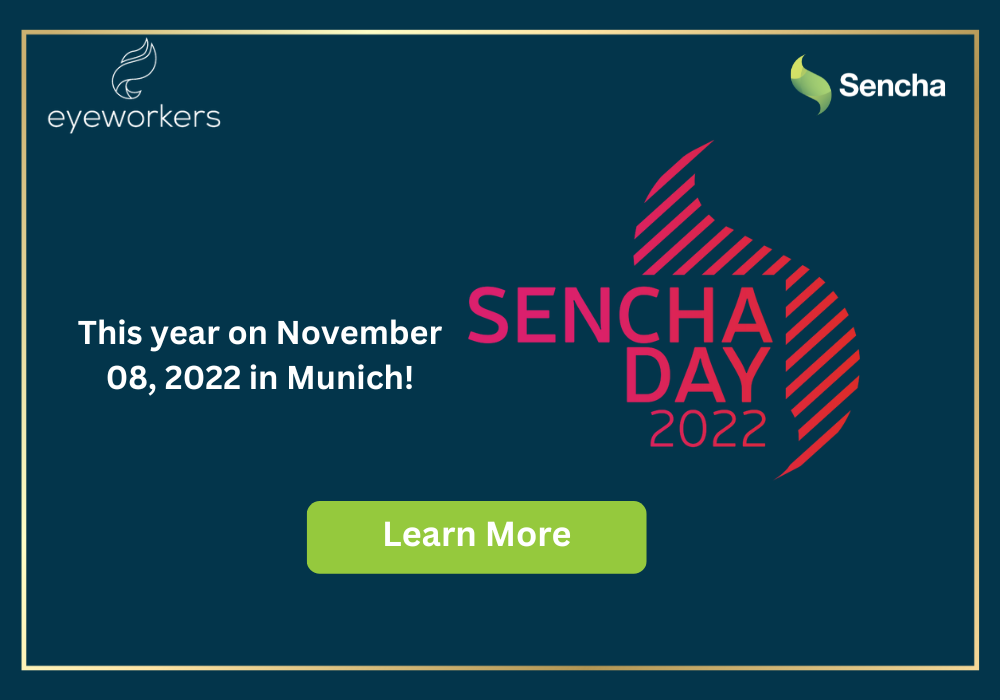 After the long Covid-19 has finally come to the end, we are happy to bring back Sencha Day to Europe! With a whole day pre-conference training focusing on the Sencha framework and web development, we have a few good reasons for you to attend this year's Ext JS conference: Sencha Day 2022 in Munich, Germany!
General Manager, Kegan Blumenthal from Sencha, an Idera, Inc. Company, along with Eric Romoff, Sencha Chief of Staff, will be joining live from the United States for this conference keynote presentation and share valuable insights of industry trends and the forward-looking vision for Sencha Products. Along with Product Architects and Engineers from Sencha, you'll have a chance to talk and discuss directly with the framework maintainers, share your feedback, and learn new tips and tricks during the conference.
In addition, we have a stellar speaker lineup of customers, partners and tech experts that will present various topics across Ext JS— leave no questions open! Sencha's team and Sencha's partner Eyeworkers will share valuable knowledge about UI experience and a sneak peek of the latest trends in the development world.
More than all the informative trends and the latest development of Sencha, you will have a chance to win the prizes of Ext JS License, GRUI License, and Amazon Gift Card ($200/ $100) at the end of our Q&A session!
Few Highlighted Talks of the Sencha Day
Frontend Architecture with Micro Frontends
Preview of Sencha Rapid Ext JS
User Experience
Sencha's React Grid- GRUI
NPM in Sencha Ext JS Projects & Build Pipeline
Model Schema – What does it actually do and what alternatives are there?
Frontend Architecture with Micro Frontends
This talk is presented by Thorsten Suckow-Homberg, a Senior Developer from eyeworkers GmbH. He will be introducing you what needs to be considered when building frontends with different technologies and what a platform with Ext JS and React can look like.
Preview of Sencha Rapid Ext JS
In this session, Marc Gusmano, the senior sales Engineer of Sencha, will give you the early preview of Sencha's newest Ext JS development tool, Rapid ExtJS, which is designed to speed up application development of Ext JS apps. You will learn about how this extension will aid in the rapid development of Ext JS apps by minimizing hand-coding efforts.
User Experience
Torsten Koch, an UX-Expert from eyeworkers GmbH will talk about why a good user experience is an important feature, and how you can achieve that in your project.
Sencha's React Grid- GRUI
In this session you will learn about GRUI – Sencha's Data Grid for React, which stands for "Grid for React User Interface". Where you will see a demonstration of GRUI, which showcases its ease of installation, features, and functional capabilities.
NPM in Sencha Ext JS Projects & Build Pipeline
This session demonstrates the practical use of NPM in Sencha Ext JS projects. A step-by-step installation of an NPM environment, a Sencha application and helpful tools for development will be demonstrated. Finally, we will show you how to use GitHub Actions to create a build pipeline for your automatic deployment.
Model Schema – What does it actually do and what alternatives are there?
In this session, Torsten will explain in detail what the schema in an Ext JS model is all about. For whom it makes sense and which alternatives Ext JS has ready, will be discussed in detail and presented using practical examples.
Apart from the above topics, you will also benefit a lot from our customer success story, technical session and Q&A with all the professionals here in the conference.
Sencha Day is the place to be for Sencha Professionals in 2022. Located in Munich, one of Germany's centers of innovation, we will present an exciting schedule of talks. Make sure you follow our twitter channel @Sencha for the latest news.
Once you have registered for the event, you'll get an invitation email and will receive updates with the latest news. Furthermore, more details on https://www.eyeworkers.de/senchaday2022 are regularly updated with information regarding your accommodation, latest speaker news and travel information.
The Sencha Day team will make sure that you feel at home during your stay at the conference. In case you have any questions, please contact us at [email protected] for assistance.
If you would like to attend the conference, we'll provide a discount exclusively for Startups
Tickets are first come, first serve until we sell out*
We're looking forward to meeting you from 9:00 to 17:00 on the 8th of November in Munich, Germany!
-The Sencha Day Team