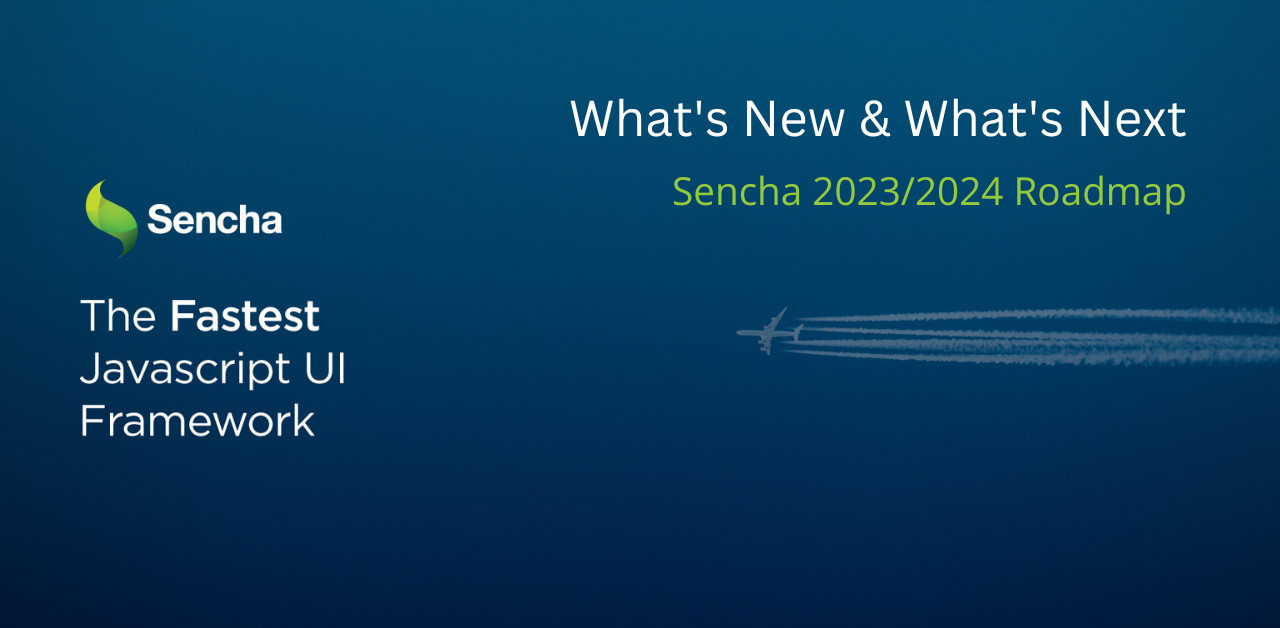 In this Sencha roadmap post, you will find a detailed summary of what we've planned for the near future.
The Sencha team interacts with customers on an everyday basis. Your feedback plays a significant role in driving our overall product direction.
Before we get to the details of our updated roadmap, we wanted to recap what we've delivered in recent months, which includes a brand new offering from Sencha.
Previous Releases
Rapid Ext JS Beta
The Rapid Ext JS Low Code Tool Editor is an innovative solution that empowers developers to build Ext JS applications quickly and efficiently with its user-friendly interface and features. You can accelerate building excellent Sencha Ext JS enterprise applications with simple drag and drop.
Advanced Features of the Rapid Ext JS Beta Low Code Tool Editor: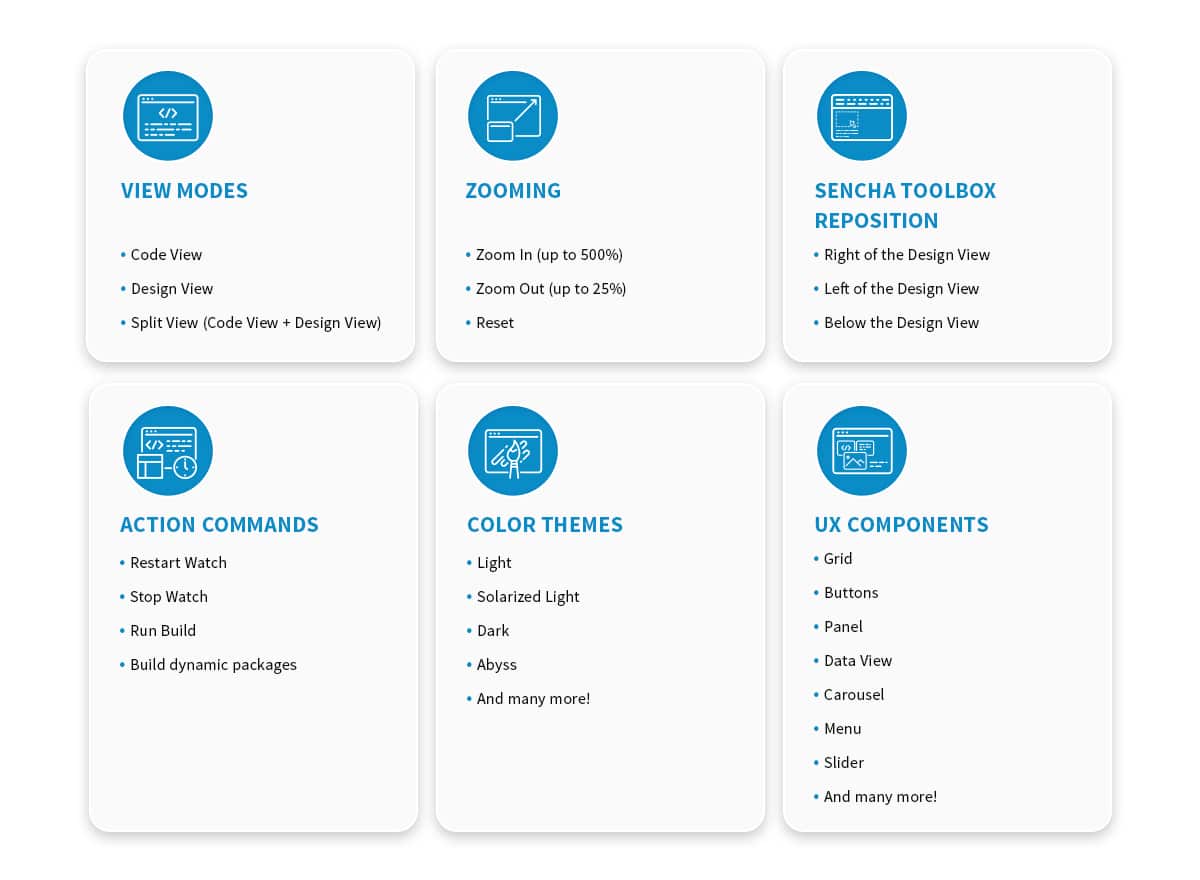 Create New Ext JS Project: Provides an easy option to open an existing application or create one by filling out a simple form
Powerful Toolbox: Provides a list of components and configurations. Adding components to the canvas is as easy as dragging them from the toolbox
Screen Resolution: The Screen resolution selector provides 15 different device resolutions
The Rapid Ext JS Beta Low Code Tool Editor offers numerous benefits to developers seeking to streamline their app development process. By leveraging its intuitive drag-and-drop interface, robust pre-built components, and extensive code-generation capabilities, developers can rapidly create and deploy high-quality applications with minimal coding required. The tool's user-friendly design also promotes collaboration and accelerates project timelines, making it an ideal solution for both individual developers and development teams.
Now the Beta Version of this Stunning Low Code Solution for Ext JS development is available to Download!
If there are specific features you would like to see added to Rapid Ext JS, please don't hesitate to reach out to Sencha product management by sharing your valuable feedback.
Looking ahead into Calendar Year 2023 and Beyond
Ext JS Classic and Modern toolkits will continue to be enterprise-class toolkits that will live long into the future. As you've seen with all of our Ext JS releases, we have a resolute dedication to both classic and modern toolkits. It is evident in both the quality-related work we've been doing in the 7.x releases so far and what we have planned for 7.7, 7.8, 7.9 and beyond.
As you will see, we will continue to invest and innovate in further enhancing the current toolkits and leverage the existing runtime to bring more value and options to our customers:
With all of the upcoming releases, upgrade lifecycles will continue to be smooth and incremental.
You can continue to use the Classic and Modern toolkits in your current and future projects—and build applications with the products you know and love.
Our popular Grid component will be enhanced with new features. New grid features, performance enhancements, and quality improvements will continue to be our focus.
There will be a significant improvement in the overall user-friendliness, accessibility, and quality of all the components in both toolkits.
Support for Sencha Architect, Themer will continue as usual.
Our current plan for Ext JS is to continue to alternate between quality-focused and feature-focused releases, as we have been doing for several years.
What's Planned for Sencha
In Development Now
Ext JS
Quality Enhancements and Developer Productivity
Numerous quality enhancements in Ext JS for Modern & Classic Toolkit focused on-Grid, Chart, TreePanel, Timefield, ComboBox, Store etc., open tooling, and much more.
Ext JS Modern to Ext JS Classic parity features:

Improvements to Timefield and Calendar Modern components
Chart component improvements for Classic and Modern
Enhanced Firefox user experience for Grid Column
Accessibility improvements for Grid

ExtJS Grid Cell editing and scrolling improvements for better user experience.
CMD improvements for closure compiler and Open tooling/NPM improvements.
Sencha Architect
Providing updates to Architect for each Ext JS release
Support for on-demand downloads of the framework, templates, and other dependencies for the user-selected Ext JS version
Support for all Ext JS framework versions from 7.x to 4.x
Support for all major platforms of Windows, macOS and Linux
Numerous quality enhancements for Sencha Architect

Performance improvements
Import support for Sencha Themer generated themes in Architect
Expanded menu option support for macOS
IDE Plugins
Sencha Eclipse Plugin, Sencha JetBrains Plugin and Sencha Visual Studio Code Plugin will focus on support for the latest IDE and Ext JS version
Numerous quality enhancements
Coming Up Next
Ext JS
Numerous quality enhancements in Ext JS for both Toolkits and Tooling updates
Additional Grid features
Enhancements to the localization support that is provided within Ext JS, allowing developers to easily build localized apps
Sencha CMD Improvements:

More ECMA support for CMD compiler
Support for higher Java versions, such as Java 17, to provide customers with greater flexibility

Numerous framework and tooling updates (Architect/Themer etc.)
Rapid Ext JS (Visual Studio Code Extension)
Rapid Ext JS (VS Code extension) – Public Release will include new features and quality improvements for usability
Focus on ease of use
Support for latest VS Code version
User experience enhancements
Add more templates for getting started with new application
Provide Undo/ Redo feature for design view
Improvements to Sencha Toolbox Feature
Component Hierarchy View Improvements
Numerous quality enhancements from beta cycle
Documentation and getting started guide
Coming Up Later
Ext JS
Quality Enhancements
Numerous quality enhancements in Ext JS for both Toolkits and Tooling updates

Accessibility improvements
Enhancements to Grid features
Rapid Ext JS
Rapid Ext JS (Visual Studio Code Extension)
Numerous quality enhancements on Rapid Ext JS (VS Code Extension)
Extend support for easy migration from Sencha Architect to Rapid Ext JS – allow users to open existing/old Sencha Architect projects and modify them in Rapid Ext JS
Sencha Tooling
We plan to make several enhancements to Sencha Cmd and NPM, providing support for modern JavaScript and Java versions, support for macOS Monterey/Ventura and Windows 11, CLI support, and more.
Sencha Cmd
We plan to keep updating Sencha Cmd to support the latest version of Ext JS & the other dependencies.
Note: These plans and roadmap represent our intentions as of this date, but our development plans and priorities are subject to change. Accordingly, we can't offer any commitments or other forms of assurance that we'll ultimately release any or all of the described products on the schedule or in the order illustrated or at all. These general indications of development schedules or "product roadmaps" should not be interpreted or construed as any form of a commitment, and our customers' rights to upgrades, updates, enhancements, and other maintenance releases will be outlined in the applicable software license agreement.
*Features are not committed until completed and GA released.
Join our Sencha Discord Server
Are you looking for community engagement? Want to help, learn and share with many Ext JS experts? Join Sencha Discord Server now for free and be part of our community!
Sencha MVPs are there.
Sencha developers are there.
Expand awareness of Sencha products
Community Engagement and Contributions
And more…