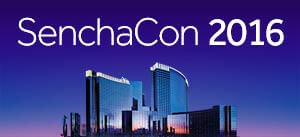 SenchaCon was jam packed with deep technical content from Sencha Engineers, partners, and customers. We've published all of the videos and slides, so you and your colleagues can learn about the future of the modern web, exciting advancements we have planned for modern JavaScript, open web tooling, integrations we've built with React and Angular, best practices for testing web applications, and much more.
Watch the videos – you'll land on the keynote session video and then you can scroll down to see the full library of SenchaCon videos
View the slides – you can search to find the slide presentation you want to view
Keynote Highlights
In the keynote session, Art Landro discussed the findings from new research about The State of the Modern Web. He also talked about how Sencha is responding to these trends with innovations in our platform to help build data-intensive, cross-platform web applications.
Mark Brocato and Gautam Agrawal delivered a great series of demos that highlighted how to add powerful Ext JS components to React applications, new progressive web app capabilities, and our new Visual Studio Code Plugin.
Benoit Gagnon, Team Lead at Ubisoft, did an amazing presentation that highlighted how they are using Ext JS to improve collaboration and accelerate project delivery, such as their new Assassin's Creed movie.
We also had a fantastic customer panel as part of the keynote in which technical leaders from American Airlines, Columbia Sportswear, and Real Capital Markets shared keen insights.
Technical Sessions
With more than 50 technical breakout sessions from Sencha engineers, customers, and partners, there was certainly an extensive collection of great content. Learn from technical leaders about how to design, develop, and test sophisticated, data-intensive web applications. Learn how customers and partners are using Sencha products in innovative ways to drive their business success. The videos and slides are now available.
We hope you enjoy the sessions! Feel free to leave comments and share your feedback.