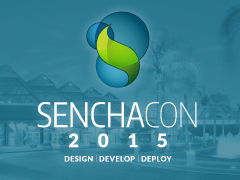 The clock is ticking and we're only about a month away from SenchaCon 2015. This is the best event to attend if you're building web apps and want to learn more about how you can improve your development cycles for years to come.
Here's a quick look at what you'll learn:
We're merging our Ext JS and Touch frameworks. You'll be able to build all of your web apps using a single framework and deliver a unique user experience for customers on desktops (using modern or legacy browsers), tablets, and smartphones.
We're also adding touch and gesture support to GXT, so you can offer your GXT applications on tablets and touchscreen devices.
We'll kick off SenchaCon with insightful keynote presentations by Michael Facemire, Principal Analyst at Forrester and Art Landro, CEO of Sencha.
Then get ready to see dozens of top-notch technical sessions led by Sencha engineers and our customers and partners who will share their best practices with you.
Check out the complete speaker list. And don't miss our Meet the SenchaCon Speakers series.

One Day Pass
Still not sure? Can't be away from the office for three days? Well, we've got the perfect solution. We're now offering a SenchaCon Day Pass which allows you to attend just one day of the conference — either Wednesday, April 8th or Thursday, April 9th. The choice is yours and the discounted price is only $750 — that's more than 50% off the regular conference pass price.
And don't forget to sign up for Ext JS & GXT training sessions — only $200 per class. Beginner and advanced sessions will be taught by Sencha instructors on April 7th at the same location. Seats are limited so get yours today.
We look forward to seeing you there!