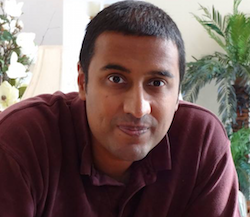 My name is Shikhir Singh, and I am the new Sr. Developer Relations Manager at Sencha, based in Los Angeles, California. If you recognize me, chances are we have already met at SenchaCon or another Sencha event.
I vividly remember the first time I saw a Sencha product. It was a Beta version of Sencha Touch v0.9, which I found via a link in Wikipedia. After tinkering around with the Sencha Touch Kitchen Sink, it was love at first sight. At that moment, I immediately realized that HTML5 would revolutionize mobile app development. Since then, I've used Sencha products for dozens of enterprise projects in my previous role as part of the Enterprise Developer Relations group at BlackBerry, and I have also presented Sencha solutions at various mobility events.
In my new role at Sencha, I'm focusing on all Sencha products except GXT – which will still be handled by David Chandler. I will be interacting with the Sencha community via events, technical blogs, and social media. By engaging with members of our community, together we can improve the already outstanding products Sencha offers.
Given my background in enterprise apps, I have made that the focus of my first webcast. It will cover best practices for design, development, and deployment/management of enterprise apps.
Upcoming Webinar: Key Considerations in Developing Web Apps for the Enterprise
August 6, 2015
10am PDT | 1pm EDT | 6pm GMT
I'm really looking forward to meeting you, the developers and technology partners, at our upcoming events. Keep an eye on our Events page and also on our twitter stream, so you can see all of our upcoming events. If you run into me at an event, let's talk about your cool projects. In the meantime, don't hesitate to contact me @shikhirsingh or on LinkedIn.