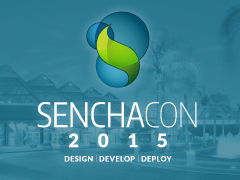 I'm Mark Brocato, and I'm a senior developer at Sencha. I've been developing with Ext JS since version 2, and I'm currently working on the Ext JS plugin for JetBrains IDEs including IntelliJ and WebStorm. Before coming to Sencha, I was the Director of R&D at BioFortis, a Life Sciences startup, where I led the development of several Ext JS apps. I'm also the creator of mockaroo.com, a web service for generating large datasets for software testing and demos.
At SenchaCon, I'll be doing a technical talk on the new plugin for IntelliJ, WebStorm and the other JetBrains IDEs that provides language support for Ext JS. With the really robust class system and well-defined app structure in Ext JS, we're able to provide an excellent code completion experience. I'm going to show off some really cool features that will help you to stand up new apps very quickly.

I look forward to seeing you there. If you haven't registered, there's still time. Email me and I'll send you a 20% discount code.
Visit the SenchaCon website for more details on all of the sessions and speakers.