Sencha recently hosted the first-ever Virtual SenchaCon—a free, two-day digital event consisting of nine different presentations and demos hosted online in separate tracks.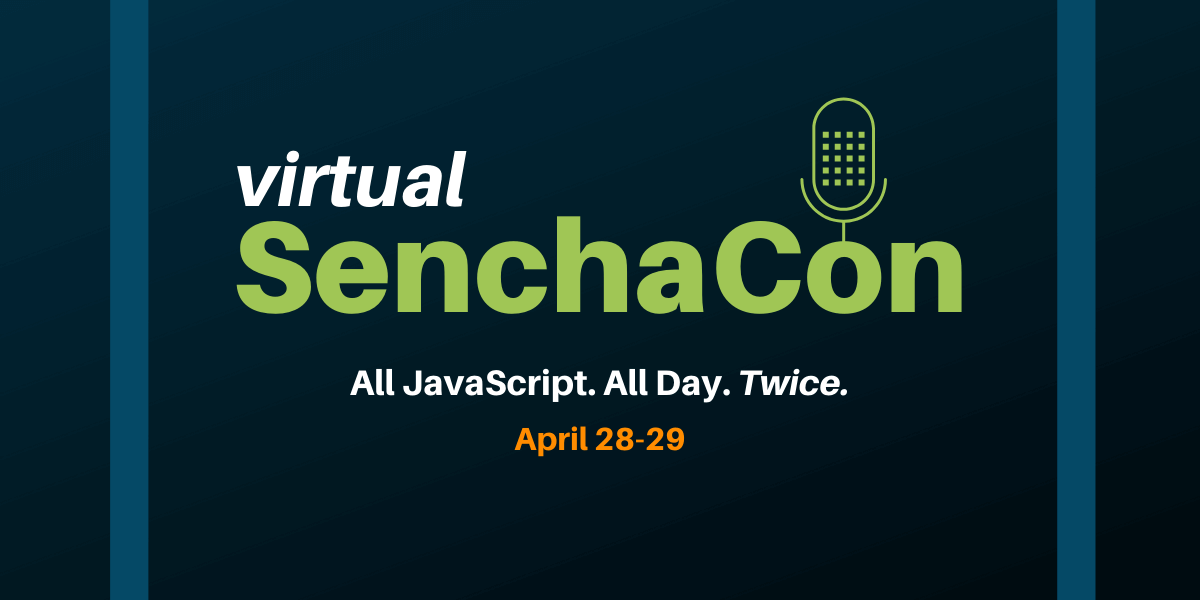 Despite being the first time we held an event like this, Virtual SenchaCon exceeded our expectations. More than 2,500 developers across the globe tuned in to hear what our product experts and guest speakers had to say, and we couldn't be more thankful to those that helped make this event a success.
Though the event was initially planned to take place over the course of a single day with five unique presentations, the unfortunate cancellation of Sencha Community Days gave us an opportunity to expand. Several speakers that were initially lined up to speak at the cancelled event were given a new platform to reach Ext JS developers through Virtual SenchaCon.
Our nine events provided Ext JS developers with a little something for everyone. The keynote—presented by Sencha, Froala and FusionCharts GM Kegan Blumenthal—gave a glimpse of what's happening and what's to come with Sencha and our JS product suite. Meanwhile, developers interested in further mastering our framework were given some unique insight from the minds behind Ext JS with Top 10 Ext JS Grid Features You May Not Know About.
Having such a diverse range of speakers and demonstrations was a truly wonderful experience, but the best part about hosting Virtual SenchaCon was the incredible way it expanded our community and gave our Ext JS developers a platform to open a dialogue with our team. Although our presentations only clocked in at 45 minutes each, they gave us a chance to communicate with our audience by answering their questions, hearing their suggestions for product enhancements, and addressing concerns they have. While we did everything we could to address every attendee's questions, comments, and concerns, we know that some may have slipped through the cracks. 
That said, we'd still love to hear from you! Get in touch with our sales team by filling out this contact form and we'll answer your questions as quickly as we can.
What's Next?

While Virtual SenchaCon may be in the past, there is still plenty to look forward to just on the horizon! Keep your eyes on our blog and emails for more information on the below events:
All About Layouts (Part Two)
The All About Layouts demonstration hosted during Virtual SenchaCon by Max Rahder, Senior Software Analyst with Celestial Systems, was a massive hit! By popular demand, Max will be returning on Thursday, May 21 at 10 a.m. CDT for a follow-up to his popular All About Layouts Virtual SenchaCon session. Register here!
Mission: Open Architect—Hackathon
During Virtual SenchaCon's Keynote event, general manager Kegan Blumenthal announced an exciting hackathon to bring the best candidate to market for an Open Source version of Sencha Architect. 
We have high hopes that Mission: Open Architect will foster community support for a visual JS editor that everybody can extend. The hackathon is planned for mid-June, and the winning candidate will receive a $5,000 reward—stay tuned to our blog for more information coming soon!
Ext JS v7.3
Throughout Virtual SenchaCon, we got quite a few questions about our next major Ext JS release, v7.3. Though we're not quite ready to announce a release date for this version, we touched briefly on the update in our Keynote which you can watch on-demand here.
Thank you for your part in making Virtual SenchaCon a success! We can't wait to see what next year holds for this awesome event, and how it might serve to bring our community closer together.
If you missed out on any of the awesome demonstrations presented during Virtual SenchaCon, you're in luck! You can view any of these free presentations on-demand by visiting our event webpage.
As always, thank you for being a part of our Sencha Community! Please do not hesitate to contact us should you have any questions!