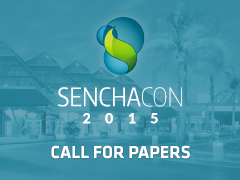 SenchaCon 2015 will offer two days of technical sessions presented by Sencha customers and partners, as well as the Sencha team. This is your chance to share how you've used Sencha technology to design, develop and deploy amazing applications. These three tracks will give everyone an opportunity to dive into the latest innovations in HTML5 application development.
If your proposed talk is approved, you'll receive one complimentary pass to the event and have the opportunity to hang out with hundreds of developers from leading enterprises across the world.
Here's a quick recap of the three tracks. We invite you to propose one or more papers in any of the tracks:
Track: Design
For designers and developers who are looking for ways to create well-designed applications and visual styles that can be easily maintained and expanded.
Sessions will include best practices for working with themes, styling components and templates, and highlight some apps with very engaging designs created by Sencha customers.
Track: Develop
For developers who want to get up to speed on the latest advances in Sencha Ext JS and GXT frameworks.
Sessions will help attendees understand best practices for using Sencha technologies to accelerate application development targeting multiple devices and a combination of modern and legacy browsers.
Track: Deploy
For developers who want to learn how to deploy, manage, and secure applications.
Sessions will demonstrate how Sencha products help users to develop and maintain apps, as well as deliver them to the right users at the right time on their preferred devices — whether it's a desktop, tablet or smartphone.
You must submit your proposed talk online through the SenchaCon website no later than January 23, 2015. For more information, please visit the SenchaCon website to review the Call for Papers Guidelines.
There are also openings for event sponsors. We have a wide variety of sponsorship opportunities ranging from the Diamond Level which includes half day boot camps, speaking sessions on the main stage, free passes and more, to the Silver Level which provides branding opportunities and enables organizations to interact with attendees in the Community Pavilion. If you're interested in learning more about SenchaCon sponsorship opportunities, please contact [email protected].
We're excited to announce that we've extended Super Early Bird Registration through the end of 2014 (for the first 100 registrants). This is the best price you'll find, so grab your ticket today! Why not give the gift of SenchaCon this holiday season?