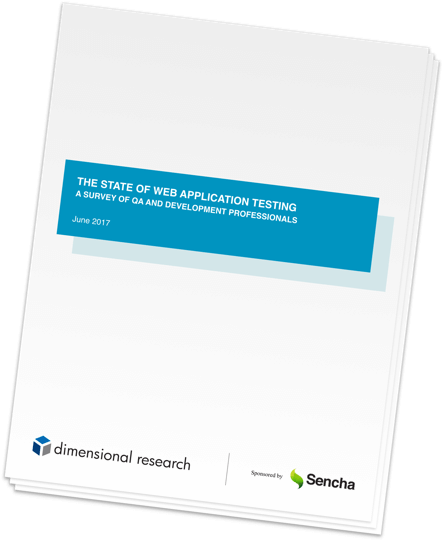 Software bugs have been a pervasive issue in application development since its inception. With the influx of data in recent years, end users have shown an increased demand for data-intensive applications and a more sophisticated and flexible user experience across the board. These trends are making QA and testing a vital step in the application development process.
To better understand some of the trends and challenges organizations face in implementing web application testing, we worked with Dimensional Research to conduct a worldwide survey of more than 1,000 QA and development professionals. You can read the complete results in our new report, "The State of Web Application Testing," and join us for our upcoming webinar where we'll provide the details behind the numbers.
Upcoming Webinar
Learn Key Insights from the State of Web Application Testing Research Report
Date: Thursday, 6/29/17
Time: 10am PT |1pm ET | 6pm BST
Who Should Attend:
Development Managers and Developers
QA Managers and Test Automation Engineers
Anyone interested in delivering high quality Ext JS apps faster
Key Highlights
Here are some of the key highlights from the report:
Business-Impacting Quality Issues Happen Regularly
Almost all survey respondents (98%) report having business-impacting quality issues. And 53% reported their business-impacting quality issues occur at least monthly. Almost everyone surveyed (99%) say quality issues have direct business impact including customer satisfaction (79%), damage to reputation (59%), and cost to fix problems (58%)
App Quality Challenges – Complicated Mix of Culture, Process, and People
Good QA is hard. The frequency of severe quality issues is not a reflection of a lack of effort. Good quality requires significant expertise, as this research clearly shows.
Development teams consistently (94%) report they face challenges doing adequate QA. The reasons behind the challenges are a complicated mix of culture, process, and people.
The number one issue reported was schedule pressures (55%), followed by test coverage across browsers and devices (45%). Some organizations have a challenge with testing being a side effort that is not clearly integrated into the overall development workflow (40%). While 79% said they automate testing, only 8% say they have a mature test automation practice. And finding good test automation engineers is a challenge. 61% say it's harder to hire a test automation engineer than a software developer. Adding to the challenges is a lack of a clear process. Only 52% have a clear process for frontline staff to flag urgent quality issues. And 44% state that they do not hold employees accountable for business-impacting quality problems. Only 35% are evaluated for application quality during performance reviews.
Organizations Are Investing to Improve Web App Quality
Despite the challenges, 99% of organizations recognize that web application quality is important, and 73% said they are planning to increase their testing investment in the coming year. Investment decisions are being driven by end users demands for better quality (42%), need for time-to-market and release schedule improvements (41%), cost reduction (35%), business focus (30%), need for competitive differentiation (29%), and more.
Building a Comprehensive Test Automation Strategy
We provide developers and test automation engineers with the knowledge and tools to improve the quality of Ext JS apps through end-to-end testing. By leveraging unit and functional testing, organizations can increase team productivity and accelerate release cycles, while ensuring they deliver higher quality web apps. To learn more about Sencha Test, read our recent blog post about What's New in Sencha Test 2.1.
Download the full survey report, "The State of Web Application Testing," and join us for our upcoming webinar on June 29th.