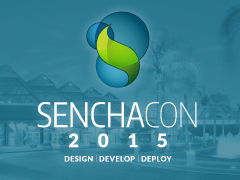 If you've been thinking about registering for SenchaCon 2015, now is the time. Sign up today and save $200 on a full conference pass before registration closes on April 2nd.

Here are the top 10 reasons you should join us at SenchaCon:
#1
Insightful keynote presentations by Michael Facemire, Principal Analyst at Forrester and Art Landro, CEO of Sencha, covering the latest industry trends and our vision for Sencha products — and a great demo by two of our technical leaders
#2
Cutting-edge technical sessions led by Sencha engineers. Check out their videos on our blog and see the full speaker list.
#3
A stellar speaker lineup of customers and partners sharing their experience and best practices. See all of the great topics and presenters.
#4
All the news on Ext JS 6, including our merged Ext JS and Touch framework, which will enable you to create web apps running across desktops, touchscreen tablets and smartphones from a single code base.
#5
An in-depth look at Sencha Space, our secure, managed application environment for HTML and JavaScript-based apps. You'll see how to build and manage cross-platform apps at a lower cost.
#6
A deep dive on the latest new GXT features, including support for touch and gestures, so you can offer your GXT apps on tablets and touchscreen devices.
#7
Priceless networking time in the Community Pavilion with your peers, Sencha engineers and executives. Don't miss all of the great games and snacks we've set up for you to enjoy while you're getting connected.
#8
1 on 1 time with Sencha experts in the Sencha Zone. Come by and ask questions about your apps including coding, app architecture, or components.
#9
Ext JS and GXT Training. Sign up for beginner and advanced training classes — only $200 per class. Sessions will be taught by Sencha instructors on April 7th at the same location.
#10
Unrivaled fun at the Levi's Stadium party with food, fun and drinks, and exclusive behind-the-scenes stadium tour. There's also a chance to win tickets to the NFL's biggest game in 2016 or a professional football home opening game in the US city of your choice, plus more amazing prizes!
We're looking forward to a great event. See you there!