Nowadays, mobile apps have become part of daily life. The number of app developments has gone through the roof over the past few years, thus resulting in billions in revenue generated by the usage of these apps. With such high numbers on the table, it's a battle for mobile developers to build mobile apps that stay at the top with user experience and provide a solution most effectively. Thus, JavaScript for mobile apps is a good solution to this. In this article, we will answer the question, "what is the best JavaScript framework for mobile apps."
JavaScript Frameworks
JavaScript, among all programming languages, has caught the attention of millions. The construction of dynamic websites and mobile apps favors its use as a client-side scripting language. Consequently, JavaScript has become a popular choice for startups and large organizations. Additionally, here is a guide on using JavaScript to learn extensively about it.
JavaScript frameworks are regarded as the best when it comes to developing and creating efficient mobile apps, especially Android apps. They are a collection of JavaScript code libraries that allow web developers to use pre-written code in their development. Many people who want to create their mobile apps have found that JavaScript is the best option due to its effectiveness, cheaper cost, tremendous community support, and easy learning curve. You can explore more on JS test frameworks using this guide to JS test framework.
These frameworks are compatible with Windows, Android, and iOS platforms. Developers that are well-versed in HTML, CSS, and JavaScript may create powerful and efficient mobile apps.
Why Use JavaScript For Mobile App Development
One of the main reasons to use JavaScript for mobile apps is because JavaScript allows to develop mobile apps quickly since it doesn't require a significant upfront investment or a lot of labor.
The process of creating apps with JavaScript is well known to developers across the world. They can, therefore, employ JS mobile frameworks without investing a lot of effort in learning.
A better UI/UX experience, interactive maps, dynamic 2D/3D visuals, and scrolling video jukeboxes are just a few of the appealing features offered by JavaScript.
A hybrid app can be produced from your programmed version using JavaScript frameworks. Thus, this takes the place of the laborious and difficult process of creating an application in many languages for multi-platform access.
Top JavaScript Frameworks For Mobile App Development
Some of the most popular JavaScript frameworks for mobile app development are as follows:
Sencha ExtJS (Sencha Touch)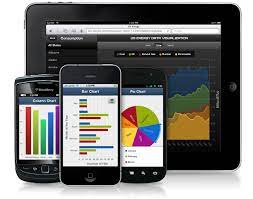 Sencha Touch and Sencha Ext JS have now been combined. One of the best JavaScript frameworks for building cross-platform mobile apps is Sencha Ext JS.
It includes UI elements that have high performance, such as pivot grids, trees, lists, forms, HTML5 calendars, and D3 adapters, among others, to help achieve the best possible outcomes.
Key Features
A configurable layout manager that aids in organizing the presentation of data and content on a variety of mobile devices running various OS.
Provides access to rich UI widgets, carousels, forms, menus, and toolbars, which are exclusively for mobile platforms and include more than 50 built-in options for customization.
Code-compatible and adaptable.
A strong data package that is part of the framework can take data from any back-end data source and process it.
Provides flexible touch feature.
Finally, it has a great JavaScript library for 3D computer graphics creation and adaptive layouts, animations, and fluid scrolling for a better user experience on mobile web applications.
Try the Sencha Testing Solution to explore more about its capabilities!
React Native
React Native enables developers to build native mobile apps for iOS and Android. Moreover, you can create a mobile application using the same code base thanks to React Native's hybrid nature. The main goal of React native is to improve mobile user experience. Additionally, a native app offers speedy, high-performance development and cross-platform mobile app.
Key Features
React has a one-way data flow feature that gives developers more control over the development process. Users who visit React-generated pages more frequently may be less likely to leave them.
React Native is quite simple to apply and leverages Node Package Manager for installation. NPM is well-known among JavaScript programmers, and learning its commands isn't too tough for beginners.
One may deploy the same code for both Android and iOS platforms using React Native.
It is straightforward for various developers to build an application using another person's project, thanks to the modular and user-friendly interface.
Ionic
The ideal usage of this open source framework is building hybrid mobile apps. The Ionic framework saves costs and decreases development effort. It uses just one piece of code across multiple platforms and has a range of Cordova plugins. The Ionic framework allows custom themes, making it simple to adapt to the intended application.
Key Features
Allows the development of personalized, reusable components for use in web pages and web applications.
Ionic's v4 functions as an independent web component library. The majority of front-end frameworks, including React.js and Vue.js, allow us to use it.
The software, which is based on the Ionic framework, can be deployed using a single code base across a variety of platforms, including Android, native iOS, desktop, and the web.
Finally, pre-designed elements, typography, interaction paradigms, and a base theme are all included in the Ionic application.
Mobile Angular UI
Mobile Angular UI has been used as an open-source online and mobile application framework. It has aided in building and testing applications using the MVC and MVVM architectures. Mobile Angular UI is one of the most popular mobile app development frameworks due to its plug-and-play components, native-like experience for hybrid apps, and directives.
Key Features
Mobile Angular UI is a low code framework.
The View layer of MVC perfectly replicates the Model layer, and they remain in sync. Users may see any changes you make to the model automatically in the view model. As a result, it cuts down on crucial development time.
With Bootstrap and Angular JS, you can create HTML5 mobile apps using Mobile Angular UI. Additionally, it contains important, uncommon functionality like switches, overlays, and scrollbar regions that depend on fastclick.js and overhtrow.js to function properly.
By converting templates into code, Angular redefines the current JavaScript virtual machine. Angular apps load more quickly than any other front-end framework used today.
Apache Cordova
Apache Cordova is one of the most well-liked JavaScript frameworks for mobile development, since it is open-source and adaptable. It connects to the native functionality of mobile devices and the operating system via the built-in JavaScript API. The same scripts that developers have created in JavaScript, HTML, and CSS may be used with PhoneGap.
Key Features
A selection of pre-made plugins for Apache Cordova gives access to the device's camera, GPS, file system, and other features.
Cordova offers basic components that can build the app's framework, so that we can devote more time to implementing our own logic.
Finally, Cordova's CLI allows the development of new projects, compiling them on many platforms, and executing them on actual hardware or emulators.
jQuery Mobile
jQuery mobile is a user interface framework for HTML 5, to build responsive websites or applications accessible on desktop, tablet, and mobile devices. In order to create websites with the least amount of programming, the framework combines HTML5, jQuery, and jQuery UI.
Key Features
A built-in theme system in jQuery Mobile allows developers to choose their own application style.
Enables developers to create apps that can be accessed by any number of browsers and devices.
To provide touch, mouse, and cursor focus-based user input functions, developers can also integrate a simple API.
Has a lightweight size of about 40KB when minified.
Ember.js
Ember JS is a popular tool for creating extremely complex and challenging mobile apps. Fastboot.js and ember.js are two components of this free, open-source JavaScript client-side framework, which enables two-way binding.
Key Features
Ember helps speed up the training process for new employees in your company. Additionally, Ember helps expedite the process of transferring developers across projects.
Allows shared URLs and automatically sets routes and controls.
Creates reusable and maintainable applications.
Ember.js uses templates to help update the model automatically as the application's content changes.
An adaptable framework that enables you to improve the efficiency of your application without repeatedly refreshing the entire page.
For troubleshooting Ember apps, Ember.js also offers the Ember Inspector tool.
Summary
In conclusion, the creation of mobile applications is changing daily, moving from single-platform applications to cross-platform native apps. Thus, with such a rapid expansion in technological adaptation, it will be interesting to observe how hybridized our apps develop.
In the future of front-end and back-end development, JavaScript will be crucial. Thus, the leading JavaScript frameworks for mobile app development are Sencha Ext JS (Sencha Touch), React Native, Angular, jQuery, Ionic, and Apache Cordova. According to the features and functions of the project you are working on, there are a variety of JavaScript framework solutions available.