As we enter 2017, I would like to wish our Sencha community a very happy New Year. I am thankful for your business and I am very proud of all that we achieved together in 2016. Innovations in web application technology continued to help you build powerful web applications that create business advantage and deliver a great user experience.
We were very proud to welcome almost 500 new customers to the Sencha family in 2016. These customers come from all over the globe and a wide variety of industries. One trend that continues to be true as we drive the Digital Age forward is that companies in almost every industry are becoming software companies.
We also welcomed almost 350 developers and 100 organizations to the new SenchaDevs. This group of talented developers and organizations has received more than 125 recommendations for their outstanding skills and work. If you're looking to hire a developer who knows Sencha products, SenchaDevs should be your first stop.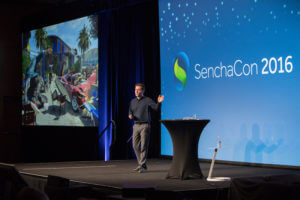 We were also very happy to meet more than 1,000 members of the Sencha community at the many events we ran last year – all around the world. We visited 5 continents, 11 countries and more than 30 cities – some multiple times! Getting out and talking to all of you is honestly the best part of my job at Sencha. I really enjoy seeing how you're using our technology and understanding how we can better serve you. During the keynote at SenchaCon Las Vegas, we saw an incredible presentation from Ubisoft about how they're using Ext JS to improve collaboration with their internal design community and improve the efficiency of game and asset creation/management.
We also gained tremendous insight from technical leaders at Columbia Sportswear, Real Capital Markets and American Airlines. You can watch a replay of the keynote and see for yourself.
The Sencha technical team was extremely busy in 2016 working on new and improved products to help you build high-quality, data-intensive, visually-powerful web applications that deliver a great user experience, faster than ever. In 2016 we introduced numerous new and improved products including Sencha Test, Ext JS 6.2, GXT 4, Themer, IDE Plugins, Visual Studio Code Plugin, Architect 4.0, and Cmd 6.2.
As those of you who attended SenchaCon or watched the SenchaCon videos already know, we've got exciting updates planned for you in 2017. I'm looking forward to a great year with all of you and again, on behalf of everyone at Sencha, thanks for your business and commitment.