Did you thoroughly enjoy the live rock show last month or was the baseball game you attended this past week absolutely nail-biting? Research suggests that millennials and other generations are trending to explore and value experiences rather than materialistic possessions. More likely than not, the ticket you purchased to attend the event and make those long lasting memories was channelled through Ticketmaster Entertainment Inc—a leader in live event ticketing. 
With decades of success in revolutionizing event ticketing globally, Ticketmaster, makes attending live experiences a reality by connecting fans all over the world to thousands of artists, sports teams, and venues through an easy to use digital experience.
Many of us are familiar with the consumer side of Ticketmaster which provides an avenue to purchase your favorite live event tickets such as concerts, theatre, broadway shows, sports or family-friendly entertainment through an easy click of a button. Ticketmaster works with venues, artists and promoters to control their events, set ticket prices and make those available to the end user through a convenient digital interface. Their enterprise business on the other hand, caters to their clients such as artists, promoters and venues who use Ticketmaster's platform for getting real-time data about event sales, revenue, inventory, attendances and other similar metrics. These powerful metrics help clients make data-driven decisions to maximize productivity, boost sales and increase profitability.
Sencha has been a strong partner in Ticketmaster's success. Sencha provides the team at Ticketmaster with the enterprise solution for their business application and has helped accelerate data reporting and visualization while improving developer productivity.
Check out more in this recently released case study.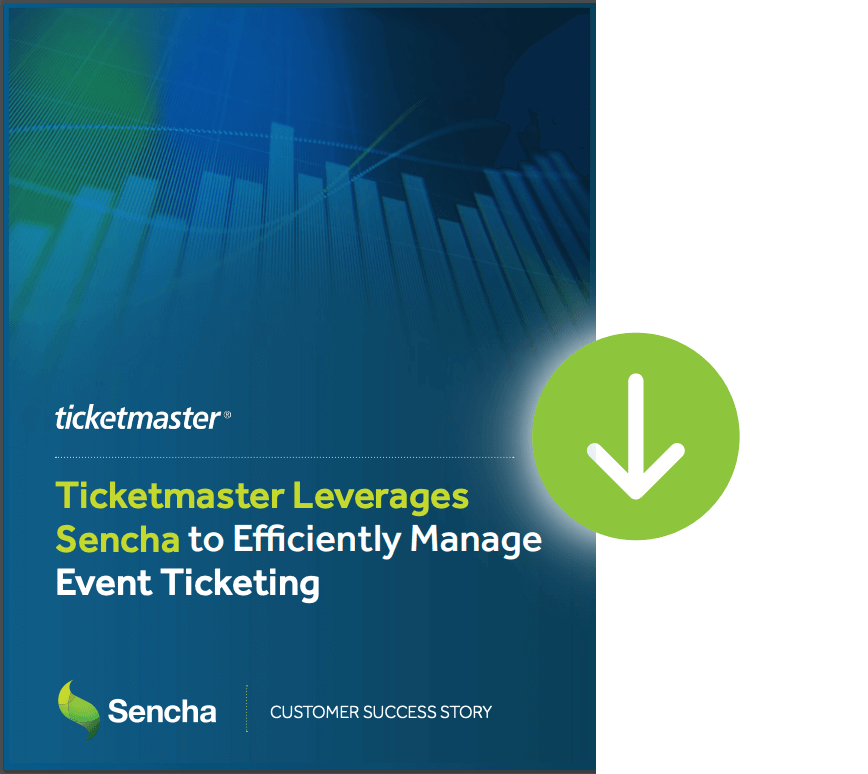 Looking for the Best UI Components for Your Project? 
Sencha offers 140+ pre-built UI components that work with the JavaScript framework of your choice. Our high performing modern grid provides state-of-the-art features to handle the most intensive data inputs. Try the 30-day free trial of framework specific UI components with Ext JS, ExtAngular and ExtReact or choose the framework-agnostic and versatile ExtWebComponents.