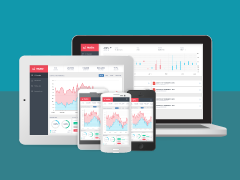 In last week's webinar, Analyzing the ROI of JavaScript in Enterprise Software Development, we discussed the requirements for building enterprise applications and highlighted some of the challenges commonly faced by our own customers. We also examined how choosing a JavaScript framework can impact the long-term economics relating to development, maintenance and operational processes.
To view the webinar, please visit the Sencha Channel on BrightTalk

At the end of the presentation (~56:00) we received a few interesting questions that we simply didn't have the time to answer. We promised to follow-up on these questions — so here are our responses:
Upgrading JavaScript Frameworks
How mature is any Javascript framework (and Ext JS in particular) in terms of supporting upgrades? Transition from Ext JS 3 to 4 was relatively a big effort compared to a Java 5 – 6 upgrade. Do you consider a better upgrade transition supported by JavaScript frameworks in the future?
This was one of the major concerns we raised during the presentation. As you point out, many other enterprise technology platforms (e.g. Java) have far longer release cycles compared to web technologies. In fact, Wikipedia cites roughly two years between the major versions J2SE 5 and Java SE 6.
With the explosion of HTML5 in recent years, web technologies (specifically JavaScript) have enjoyed an incredible amount of innovation as browsers continue to implement new HTML5 capabilities. The downside to the innovation is that the technology changes so fast that we currently see a huge difference in functionality between legacy browsers (e.g. Internet Explorer 8) and the latest versions of Chrome.
During the webinar, we spoke about how some widely popular micro-frameworks (AngularJS and jQuery, among others) have completely abandoned legacy browser support in their most recent versions. This is of great concern to enterprise organizations who must continue to support older browsers for the foreseeable future — and to your question, many JavaScript frameworks are not "mature" in their support for upgrades in this sense.
Sencha however has firmly aligned itself with the needs of the enterprise, and we learned a lot from the experience of our customers during the Ext JS 3 > 4 migration. First we made sure that our latest release (Ext JS 5) offered a smooth upgrade from 4.x. Second, we kept support for the legacy browsers our enterprise customers still require. Third, based on our customer's upgrade experiences, we have made upgrade paths and backward/forward compatibility a standard roadmap item.
While it's hard to say if all JavaScript frameworks will mature into longer, more stable and smoother release cycles, we believe that Ext JS is the clear leader in this area.
Browser Support
What rule/commitment does Sencha have on supporting older browsers? For example, when will you stop supporting IE8?
The only rule Sencha has for deciding which browsers to support comes from what our customers tell us they need.
When we first released Ext JS 4.0 in 2011, the browser landscape looked a bit different than it does today. Internet Explorer 6 still had significant market share, and Chrome had only just begun its shorter 6-week release cycles. Mobile browsers were far from mature, and at the time, few enterprise companies had mobile strategies.
The browser landscape today is much different, as are the requirements for enterprise web applications. While the need to support Internet Explorer 8 is clearly still a priority for our customers, only a few organizations require anything older (and for those customers, we are supporting them via customized extended support programs). On the other hand, many of our customers also specifically asked us to begin supporting mobile browsers — particularly for use on tablets. Therefore, Ext JS 5.0 (released earlier this year) evolved with the needs of our customers.
When will we stop supporting IE8? Certainly not in the immediate future. The majority of our enterprise customers tell us they still need to support IE8, and this aligns with research from Net Market Share that legacy Internet Explorer still commands a sizeable chunk of IE usage.