FAQ
WHEN: April 12th, 9AM – 6PM CDT
WHERE: 100% Virtual, right here
WHO IS PRESENTING: Sencha leadership, partners, and experts
WHY: Attend SenchaCon to gain valuable insights and knowledge on how to optimize and enhance your Ext JS development skills. With a lineup of experienced Ext JS developers as speakers and a range of sessions catering to both professional and hobbyist developers, this event is a must-attend for anyone looking to stay ahead in the game. Plus, it's completely free!
GET INVOLVED:We're always looking for new and unique perspectives to share with our global developer community! If you're interested in presenting, you can email the Developer Advocate at Sencha (weme[email protected]) and we'll set up a time to chat!
A Full Day of Content from the Minds Behind Ext JS
The fourth annual Virtual SenchaCon will feature sessions covering a variety of topics led by Sencha experts, partners, and MVPs, each putting the spotlight on a different feature or Sencha product. Whether you join us for every session or only those that interest you, we look forward to celebrating our global developer community with you!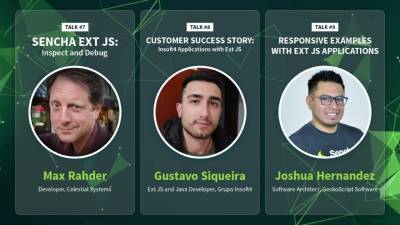 Don't miss out – Register for this event(free)
By registering, you confirm that you agree to the processing of your personal data by Sencha Inc as described in the Privacy Statement. Sencha is part of the Idera group and may share your information with its parent company Idera, Inc., and its affiliates. For further details on how your data is used, stored, and shared, please review our Privacy Statement.