Welcome to our guide to the best front end framework for Web Development in 2023! If you're a web developer, you know that designing an excellent user interface can be a time-consuming and challenging process. Therefore, the Best UI framework is essential – it provides pre-built rich user interface elements and styles.
Additionally, you can use them to create a beautiful and functional website or web application quickly. Using the best front end framework can solve many problems web developers face when designing user interfaces. For one, it saves considerable time and effort that would otherwise be spent designing elements from scratch.
In this blog, we'll look at five of the best UI frameworks to make your web development projects more manageable and efficient. We'll cover frameworks designed for different types of web development. Whether building a simple website or a complex web application, a UI framework can help you do the job faster.
So, sit back, relax, and get ready to discover the top UI frameworks for web development in 2023!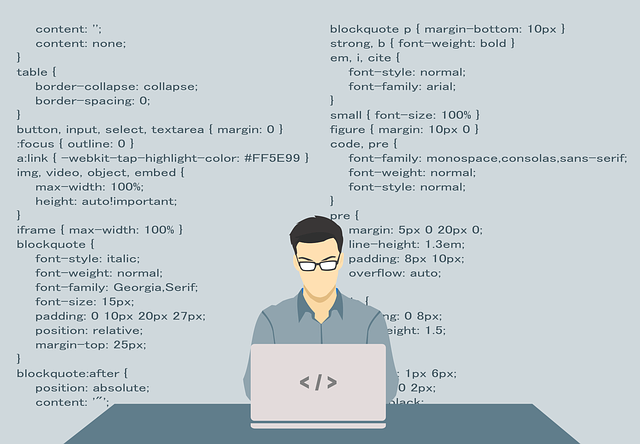 What Are UI Frameworks?
UI or front-end frameworks are pre-built collections of user interface components, styles, and functionality. They provide a consistent design language. Moreover, you can use them to build responsive, mobile-friendly sites or apps. Moreover, UI frameworks often include CSS libraries, JavaScript plugins, and icons to complete complex projects quickly.
Additionally, these frameworks are essential for web developers looking to save time and streamline their development processes.
Front-End Frameworks vs Backend Frameworks
Front-end frameworks help us design the user interface and create client-side functionality. On the other hand, back-end frameworks are used for server-side programming and database management. Both frameworks are essential components of full-stack development.
Front-end frameworks focus on the user-facing side of the application. On the other hand, back-end frameworks handle the data and logic behind the scenes.
What Are Some Best UI Frameworks?
Here are some best UI frameworks that you can use in 2023.
Sencha Ext JS as a Best UI Framework
Sencha Ext JS is a popular UI framework that provides developers with a rich set of pre-built UI components and tools for creating web applications. Additionally, it is known for its robustness, cross-browser compatibility, and support for both desktop and mobile devices. Sencha Ext JS offers features like data binding and MVC architecture. As a result, it can make the development process faster and more efficient.
Features
Rich UI components
Cross-browser compatibility
MVC architecture
Data binding
Customizable Theming and styling
Mobile-friendly
Extensive documentation and support
Drag-and-drop
Built-in charting
Support for multiple data sources.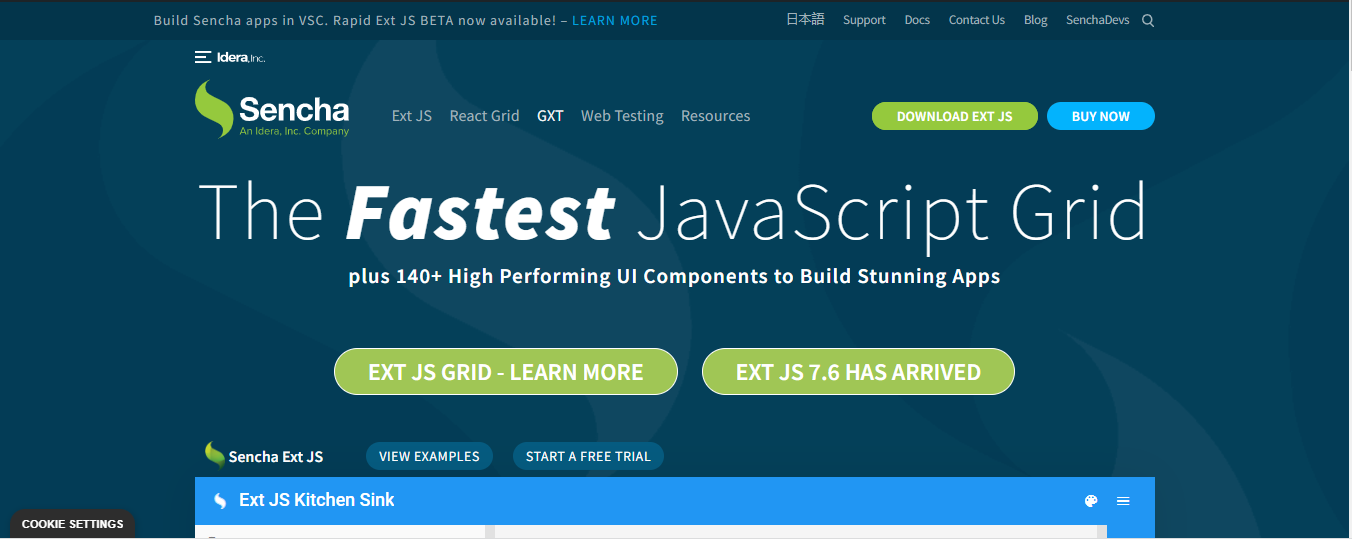 Ember
Ember.js is a popular open-source JavaScript framework for building ambitious web applications. Moreover, it provides developers with robust tools and conventions for creating scalable and maintainable code. With Ember.js, developers can build fast and responsive web applications that are easy to maintain and extend over time.
Features
Component-based architecture
Data management tools
Routing
Templating system
Testing tools
Add-ons and plugins
Limitations
While Ember.js is a robust and one of the powerful best frontend frameworks, there are some limitations to consider:
Steep Learning Curve
Ember.js has a relatively steep learning curve compared to other front-end frameworks. Therefore, this may make it more challenging for beginners to get started.
Large File Size
The framework's file size is relatively large. Therefore, it can impact the application's performance, particularly on slower internet connections.
Strict Conventions
Ember.js has strict conventions. So, it may limit the flexibility of the application.
Not Suitable for Small Projects
Due to its complexity and robustness, Ember.js may not be the best choice for small or simple projects.
Limited Community
Compared to other front-end frameworks, the Ember.js community is relatively small. Therefore, it may limit the availability of resources and support for developers.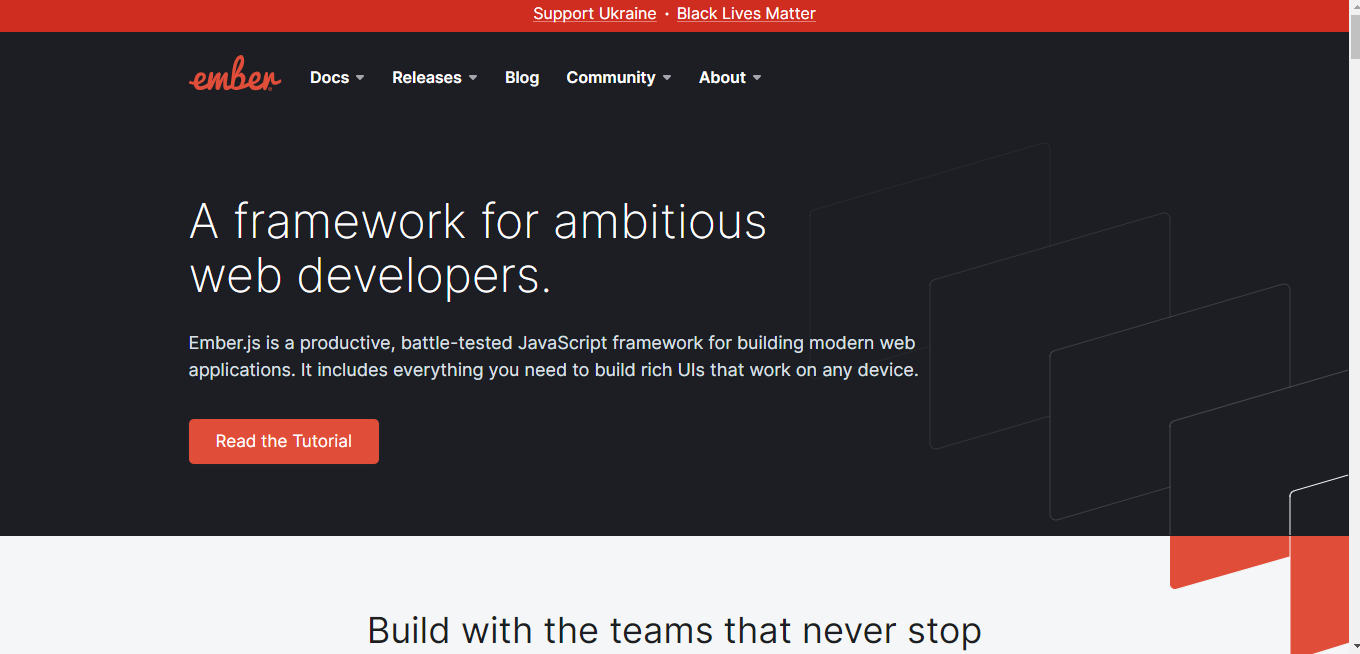 Vue.JS
Vue.js is a progressive JavaScript framework used for building user interfaces. It is designed to be adaptable and easy to use, allowing developers to create dynamic web applications easily. Moreover, Vue.js provides a simple and intuitive syntax that allows developers to create reusable components. Let's take a look at its features and limitations.
Features
Reactivity and Two-Way Binding
UI Component-Based Architecture
Templates and Directives
Virtual DOM
Scoped CSS
Routing
Vuex
CLI
Limitations
While Vue.js is a versatile framework, there are a few limitations and challenges associated with using it:
Large File Size
Although Vue.js is relatively lightweight, the file size can be larger than other frameworks. As a result, it may impact the load time of an application.
Limited Scalability
Vue.js can struggle to scale to large applications and teams, as other frameworks have fewer established patterns.
Steep Learning Curve for Beginners
While Vue.js is relatively easy for experienced developers, beginners may initially find the framework challenging to understand.
Limited Ecosystem
Vue.js has a more miniature ecosystem than some other popular frameworks.
Limited Server-Side Rendering Support: Although server-side rendering is possible with Vue.js, setting up can be more complicated.
Compatibility with Older Browsers:
Finally, Vue.js may not be compatible with older browsers without additional polyfills or workarounds.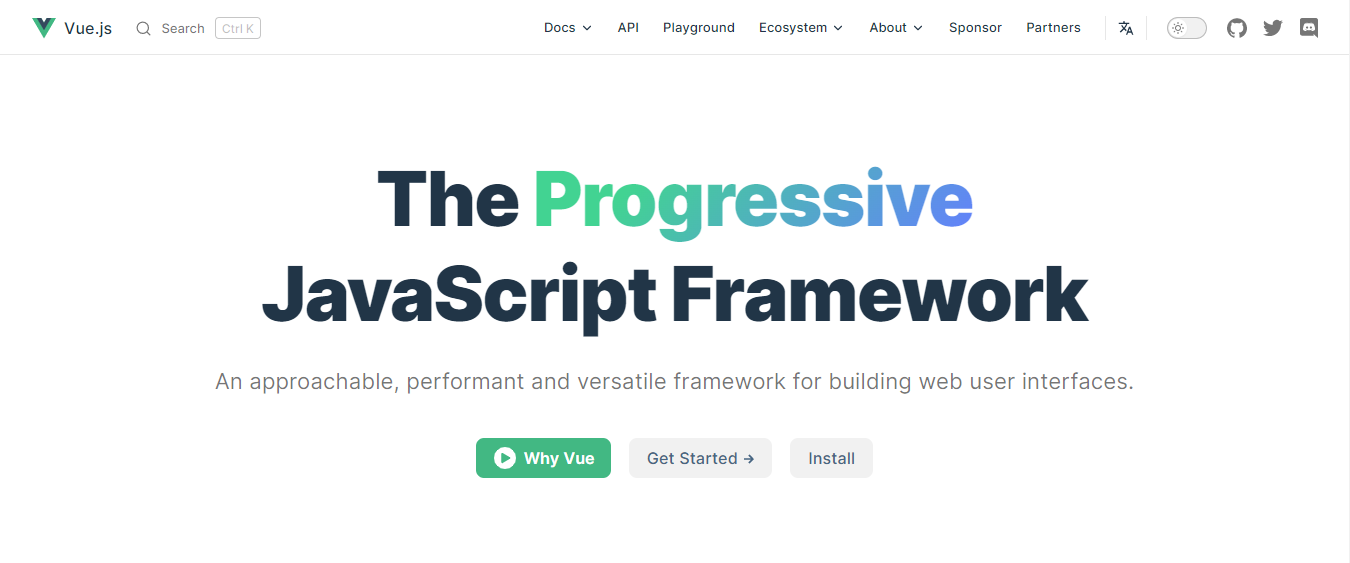 React
React is a popular open-source JavaScript library used for building user interfaces. It was developed by Facebook and has since become one of the most widely used libraries. Moreover, React's popularity stems from its powerful features that make building dynamic; high-performance user interfaces easy.
Features
Component-Based Architecture
Virtual

document object model

(DOM)
JSX
Server-Side Rendering
One-Way Data Binding
State Management
React Native
Extensive Ecosystem
Limitations
Boilerplate Code
React can require a lot of boilerplate code. Besides, it can be time-consuming to write and maintain.
Complexity
As applications built with React grow in size and complexity, it can become more challenging to manage the state and performance of the application.
Not a Full-Fledged Framework
React is not a full-fledged framework like Angular or Vue.js. Therefore, developers may need additional libraries or tools to build specific features.
Limited SEO Support
React relies heavily on JavaScript and optimizing for search engines. As a result, it can be more challenging than applications built with server-side rendering.
Need for Third-Party Tools
React's built-in state management system may not be sufficient for complex applications. Therefore, it requires developers to use third-party tools or libraries.

Svelte
Svelte is a modern front-end framework for building web applications. Moreover, it emphasizes compile-time optimizations and generates highly efficient code that runs directly in the browser. As a result, it gives smaller bundle sizes and faster load times.
Features
Compiler-Based Approach
Reactivity
Component-Based Architecture
Built-In Animations
Simple and Intuitive Syntax
Accessibility
Extensive Ecosystem
Limitations
Relatively Small Community
Svelte has a smaller community than other popular frameworks. So, finding resources and support is more challenging.
Limited Third-Party Libraries
Svelte is a relatively new framework. Therefore, it may not have as many third-party libraries and plugins available as more established frameworks.
Not as Widely Adopted
It may not be as widely adopted as established frameworks like React or Angular. Therefore, it could limit developer job opportunities.
Limited SEO Support
Svelte relies heavily on JavaScript. As a result, it makes optimizing for search engines more challenging than applications built with server-side rendering.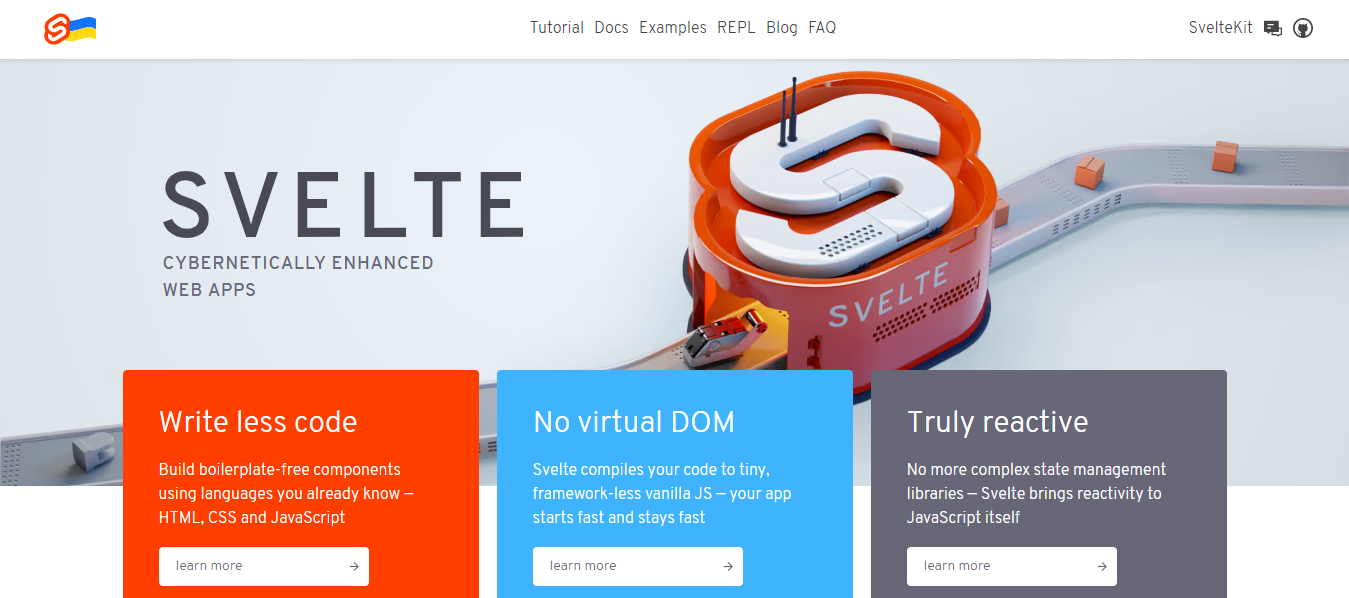 Backbone.JS 
Backbone.js is a lightweight JavaScript framework. Moreover, it provides tools and functionality for building client-side web applications. Besides, it also works with a Model-View-Controller (MVC) architecture.
Features
MVC Architecture
Events
Collections
RESTful API
Templating
Backward Compatibility
Limitations
Here are some limitations of Backbone.js:
Lack of Structure
Backbone.js provides a lot of flexibility, which can be a double-edged sword. Also, it can lead to inconsistent code and a lack of standardization.
Limited Functionality: Backbone.js is a lightweight framework. Therefore, it may not have all the features and functionality.
No Two-Way Data Binding: Backbone.js does not have built-in support for two-way data binding. Therefore, keeping the view and the model in sync is more challenging.
No Built-In Support for Routing & Mobile Apps: While Backbone.js has some support for routing, it does not have built-in support for more advanced routing features. Therefore, you may not get an advanced user experience.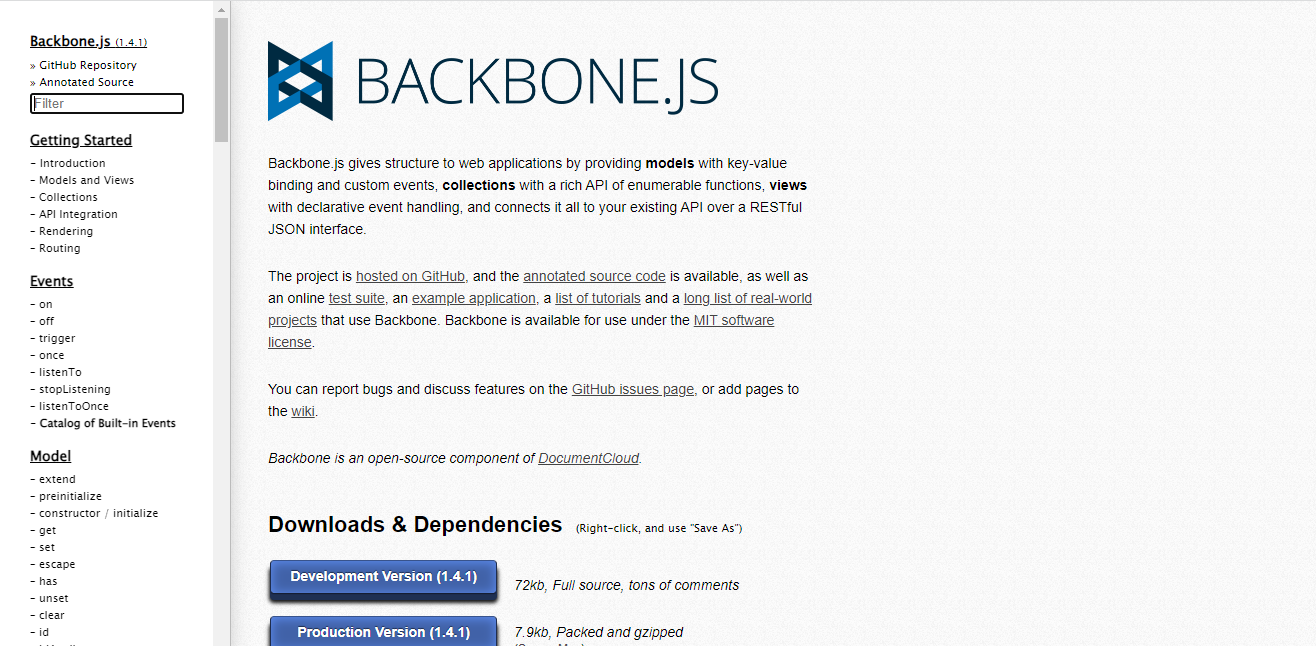 Best UI Framework: How Ext JS Fulfills Those Limitations?
Ext JS is a comprehensive JavaScript framework that can help fulfill some of the limitations of other popular frameworks like React, Vue.js, Backbone.js, and Svelte. Here are some ways in which Ext JS can help:
Ext JS is a feature-rich framework that provides a comprehensive set of tools and functionality for building complex web applications. Moreover, It includes built-in support for data management, components, layout, theming, and more.
For example, Svelte lacks an active community, but Sencha can resolve this problem. On the other hand, the Ext JS has a large and active community of developers. Therefore, many resources are available, including documentation, forums, and plugins.
It also maintains backward compatibility, ensuring applications continue working with newer versions. Simply put, it is a completely dynamic solution.
Another example is Backbone.js which lacks support for two-way data binding. On the other hand, the Ext JS framework has built-in support for two-way data binding. As a result, it keeps the view and model in sync easier. Moreover, it also has built-in support for advanced routing features, making it easier to create complex applications.
Best UI Framework: Conclusion
Choosing the proper UI framework is essential for creating successful web applications in 2023. Each framework has unique features and limitations that developers must consider before deciding. Moreover, React, Vue.js, Svelte, Ext JS, and Sencha are all top contenders in the current web development landscape.
Ultimately, the choice of the framework will depend on the project's specific requirements. For example, the development team's experience and the organization's long-term goals. With careful consideration and research, frontend developers can make an informed decision and choose the best UI framework in 2023.
Best UI Framework: FAQs
What Is a Good UI Framework?
React UI Framework is one of the top frontend frameworks.
What Is the Most Loved Frontend Framework?
React is one of the most loved frontend development frameworks.
Which Frontend Framework Is Best in 2023?
Sencha framework is best in 2023 for web app development.
Which Is the Fastest Framework?
Django is helpful for rapid development to create progressive web apps.
Sign Up for free now to develop stunning applications through Sencha Ext JS.