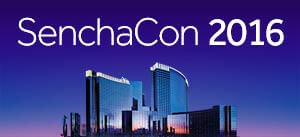 Here's the latest news about SenchaCon 2016. As we told you in our last post, we'll be in Las Vegas at the Aria Resort & Casino this year on November 7-9th. You'll get to discuss the future of the modern web and attend technical skills training, informative keynotes, and deep-dive developer sessions.
If you register for SenchaCon by 5/31/2016, you could attend the event in VIP style. All registrations received by May 31st will be automatically entered to win. One lucky attendee will enjoy:
A luxurious Sky Suite during the conference
Limo service to and from the airport
$250 in casino chips
$250 dinner for two at an Aria restaurant
Call for Speakers
Do you have a great story to tell about building your web apps? Read our call for speakers guidelines and submit your abstract today! All abstracts are due June 1, 2016. We're looking for speakers for our three tracks:
Design: Explore new approaches and advancements in creating visually-compelling web applications. Learn best practices for working with themes, styling components, templates, and discuss innovative application designs created by industry leaders.
Develop: Learn new techniques for visualizing and analyzing complex data sets within applications as well as developing applications for the modern web, and advancements that will help teams improve development productivity and deliver robust universal applications.
Test: Discuss best practices for improving application quality and accelerating application delivery through unit testing, end-to-end testing, and automation.
We look forward to seeing you in Las Vegas.